Concerts to meetings, to weddings and back again. Event space for every occasion.
Event spaces require a unique design to create the ideal area blending form and function. Our team works with you to develop an event and assembly space that maximizes usable square footage and yet impressive to guests.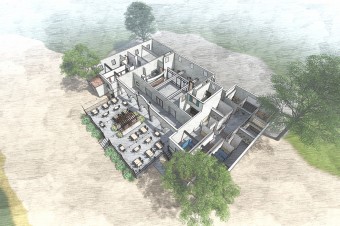 Prospect Lake Beach House
Prospect Lake Beach House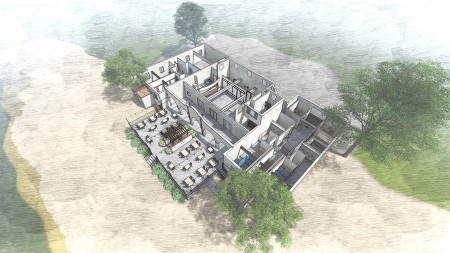 The Eni R. Jaspersen Beach House, AKA Prospect Lake Beach House is a community center in Colorado Springs, Colorado situated in Memorial Park. This local gem was built in 1937 and thanks to a $1.4 million Great Outdoors Colorado (GOCO) grant, has undergone a grand renovation. The entire first-floor space was reimagined to be fully accessible and flexible for various private and public groups that use the facility — thus bringing new vitality to the center. This rare beachfront property features water sports, kids camps, and a place for seniors to gather.
---
Client: City of Colorado Springs, Parks & Recreation District
Specifications: 3,000 sq.ft. and an additional 1,500 sq.ft. of new exterior decking
Project Link: Click Here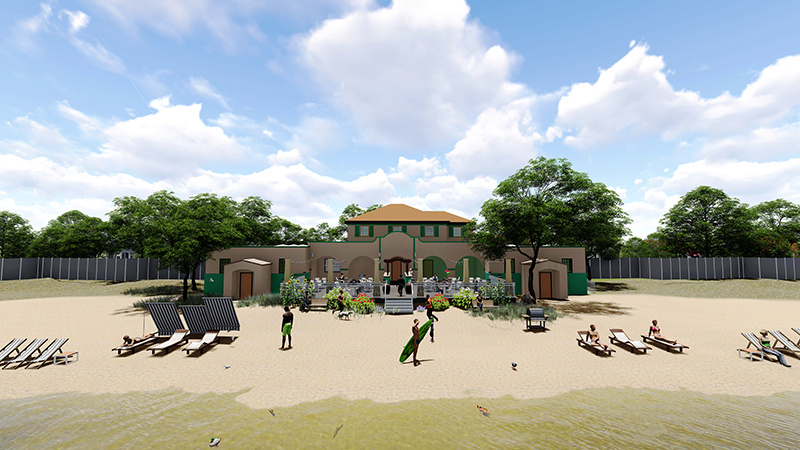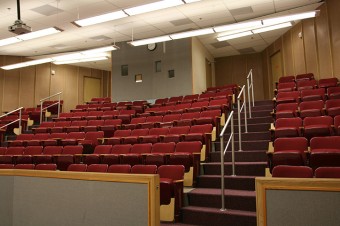 University of Denver- Boettcher Auditorium
University of Denver- Boettcher Auditorium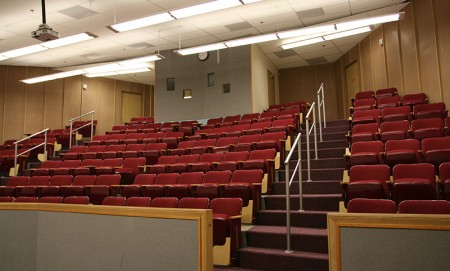 At the University of Denver's Boettcher Center Auditorium, a renovation was done to capitalize on unused auditorium space by reorganizing the space to add two additional classrooms. This re-imagining of space allowed DU to expand their usable space without addition and save then hundreds of thousands of dollars. The renovation also allowed for new accessible bathrooms, renovation of lab spaces, and upgrades to the mechanical, power, and fire protection systems.
There were some special design considerations for annexing new classroom space from a busy auditorium. A sound wall between classrooms B and C was also essential as these two classrooms are acoustically independent of each other for the convenience of the professors and students. An STC rating of 60 is typical in this kind of situation, and because using CMU was too costly, we achieved the rating with a metal stud wall partition. The key is getting a physical separation between the layers of sheathing on either side of the wall to isolate the vibrations. In this case, the wall cavity includes two layers of metal studs, one of which serves as a plumbing chase for a new drain line.
---
Client: University of Denver (DU)
Project Link: Click Here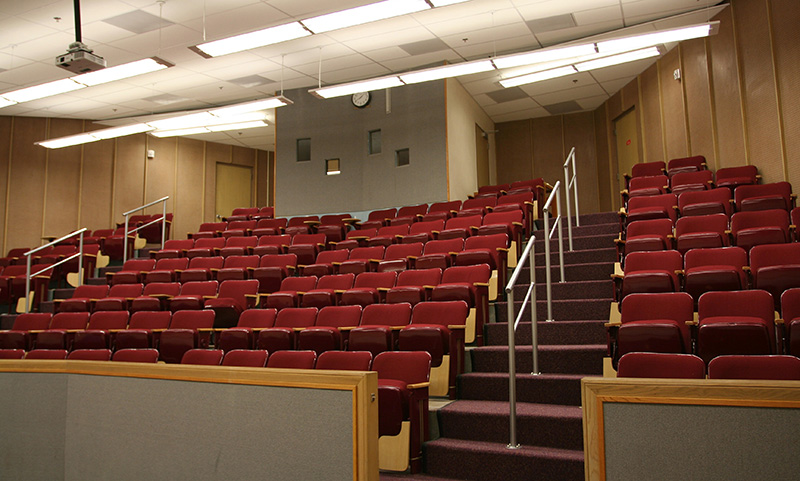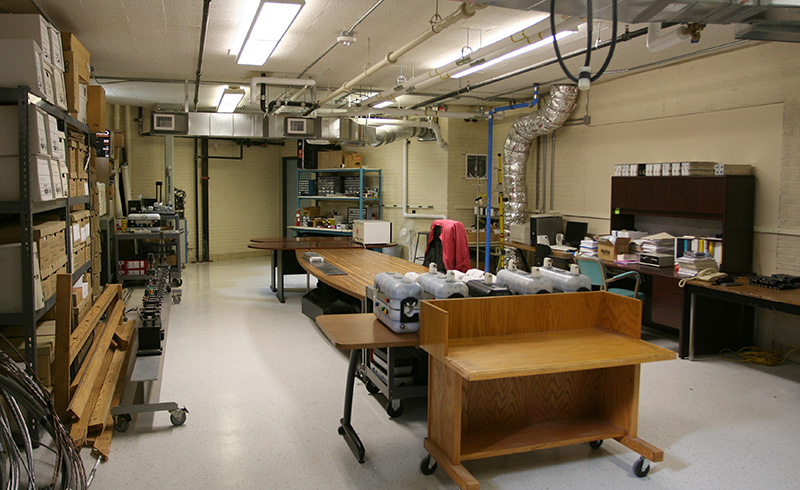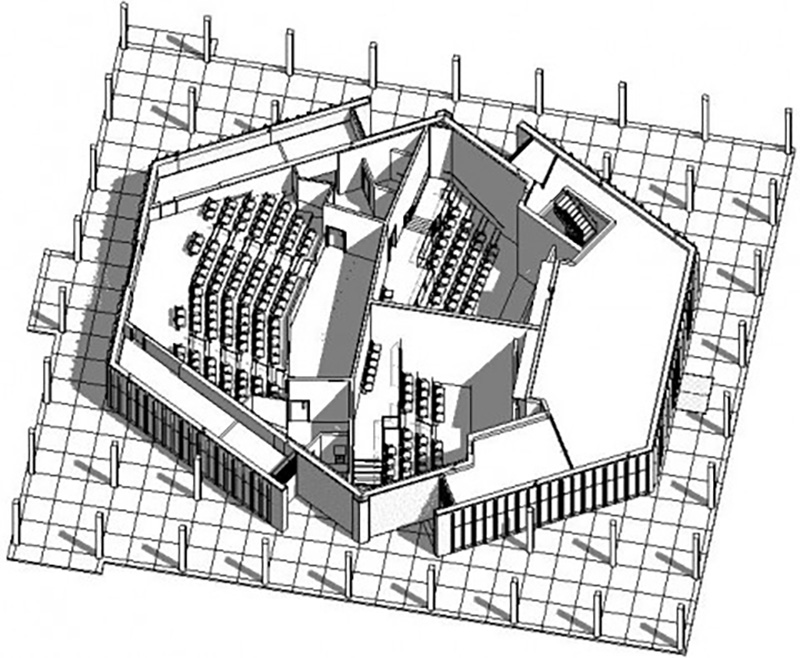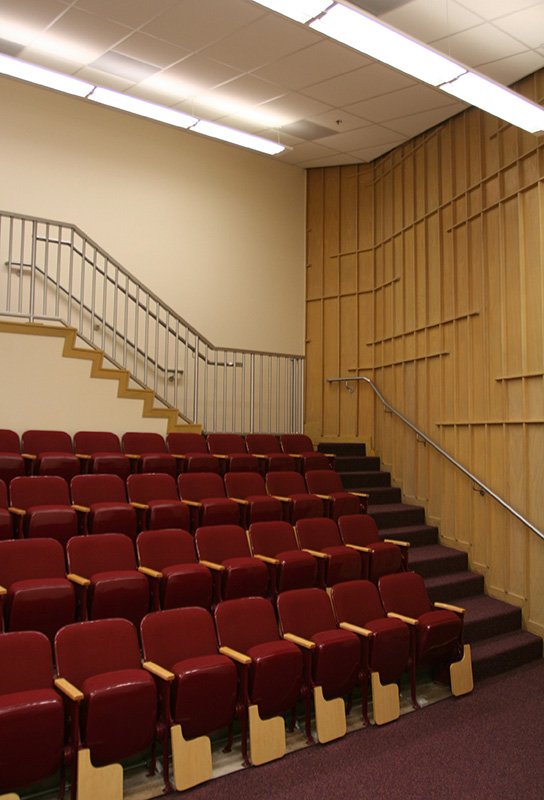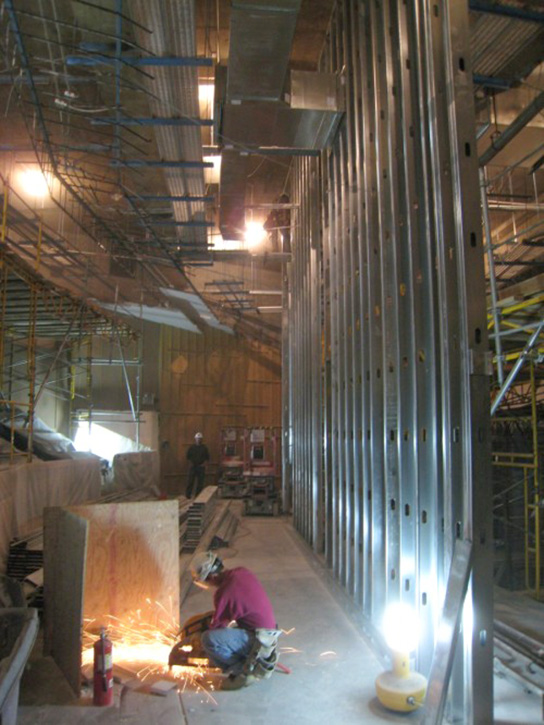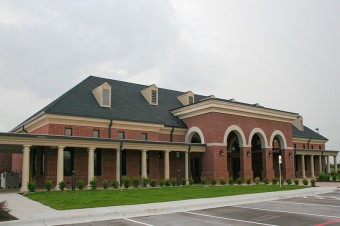 Christian House of Prayer- Lecture Hall
Christian House of Prayer- Lecture Hall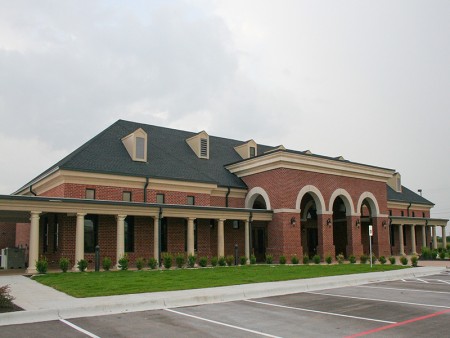 The Lecture Hall for the Christian House of Prayer in Killeen, Texas sits at the head of their Master Planned campus. It augments the design of the existing church buildings that sit on the 64-acre campus. The Lecture Hall serves both the student population of the church, local colleges and universities and features state-of-the-art technology.
---
Client: Chrisitan House of Prayer
Specifications: Wood frame and block  |  10,000 GSF
Project Link: Click Here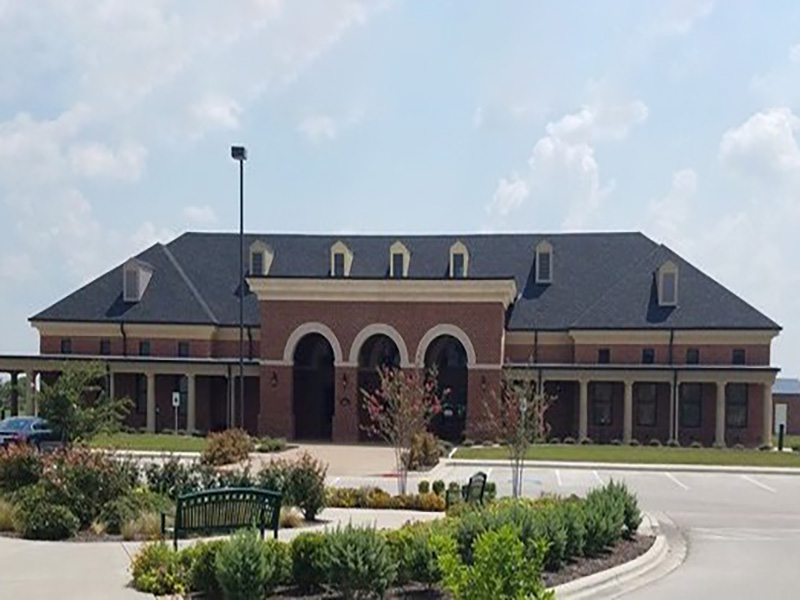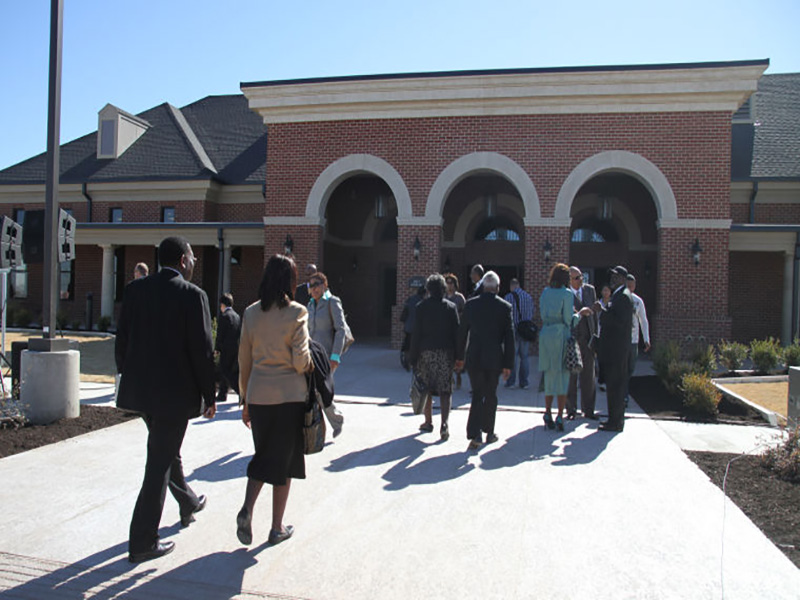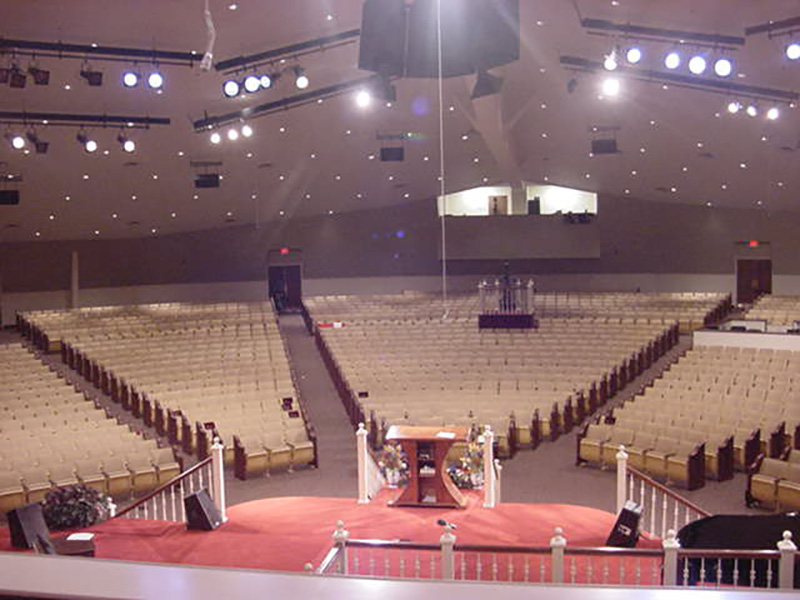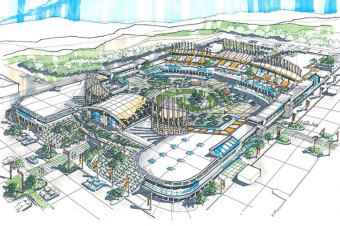 DIA Event Center
DIA Event Center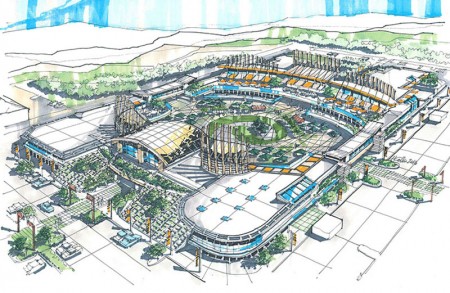 The DIA event center is a mixed-use entertainment complex concept in Denver, Colorado. The master plan includes a 3,500 sq.ft. performance stage, 16,000 sq.ft. beer garden, 8,030 sq.ft. of mixed-use including dining, 18,950 sq.ft. cultural center and a plaza that is designed to hold 23,500 occupants. The three mixed-use buildings include lounges, restaurants, office space, retail, outdoor mezzanines, and storage with square footage ranging from 37,000-50,000 per building.
---
Specifications: +-450,000 sq. ft.  | mixed-use
Project Link: Click Here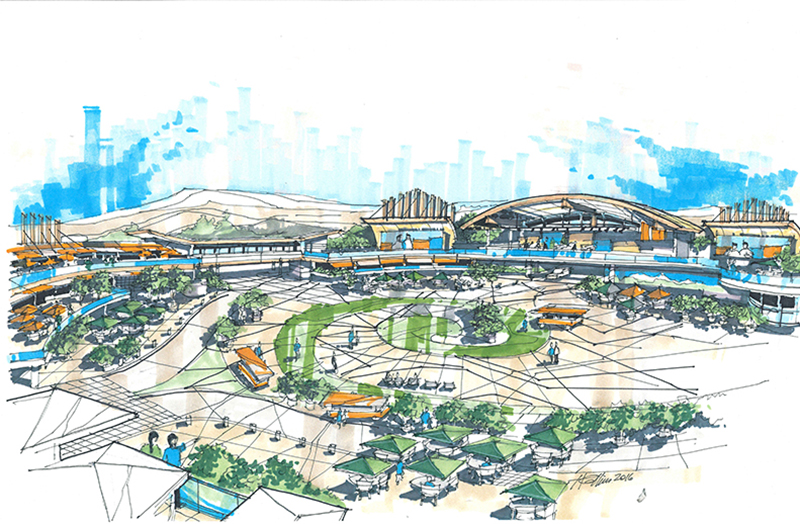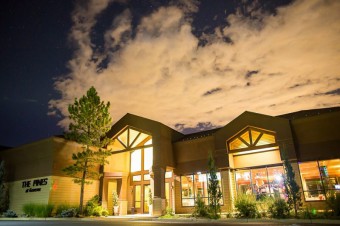 The Pines at Genesee
The Pines at Genesee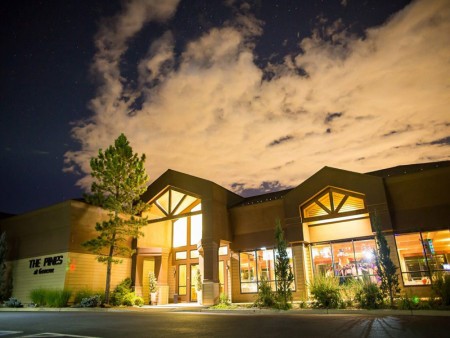 The Pines at Genesee is an event and wedding center located in Golden, Colorado that holds events indoors and outdoors year-round. This much-beloved space needed additional event space and a refresh of the existing space inside to continue to provide stylish event services while entertaining a more significant number of guests. The project was able to be completed in-between two wedding seasons and met the client's project goals while delivering a space that exceeded their expectations.
---
Client: Pines at Genesee
Specifications: Two-story  |  12,328 GSF
Project Link: Click Here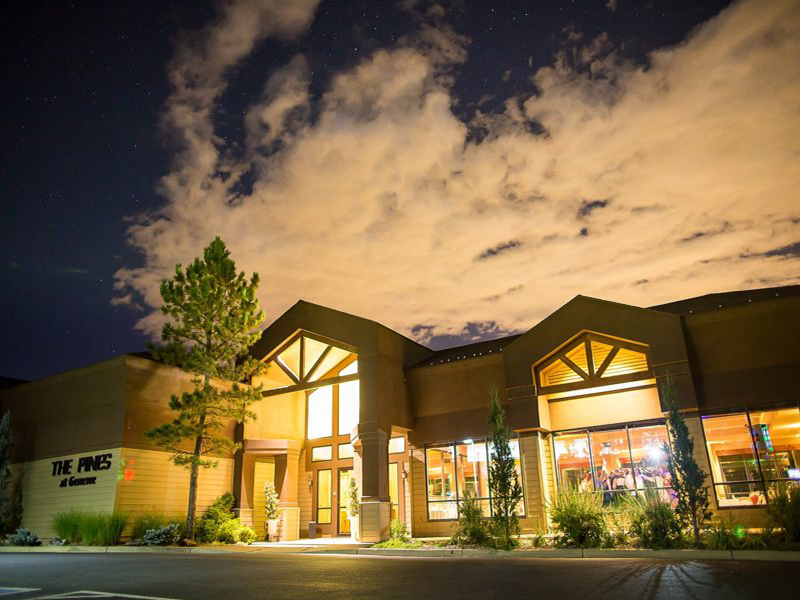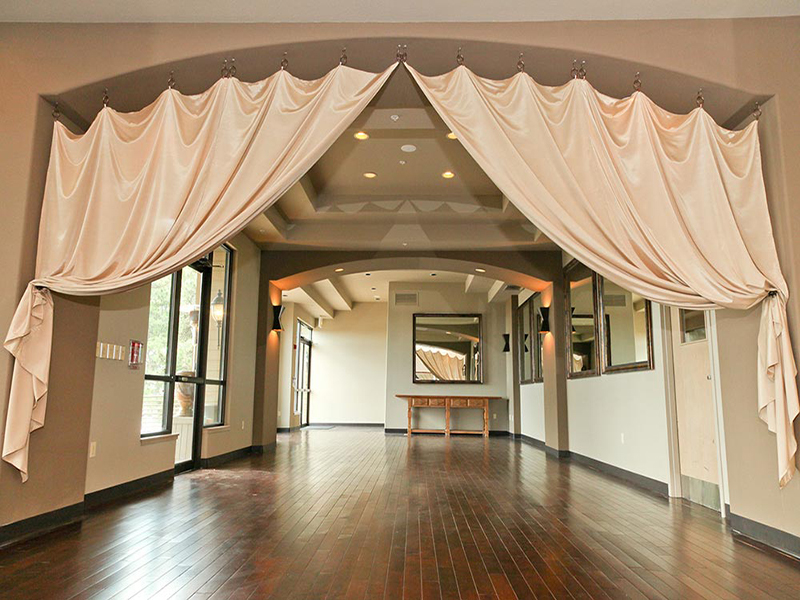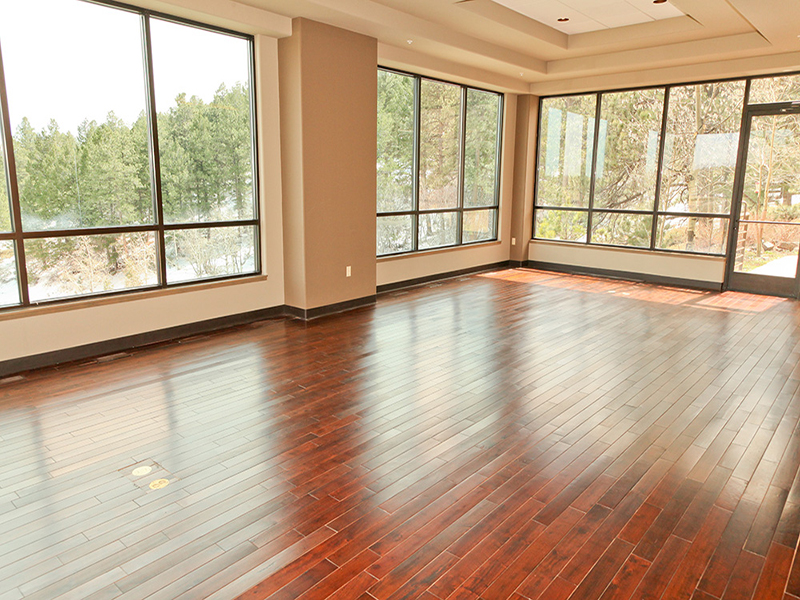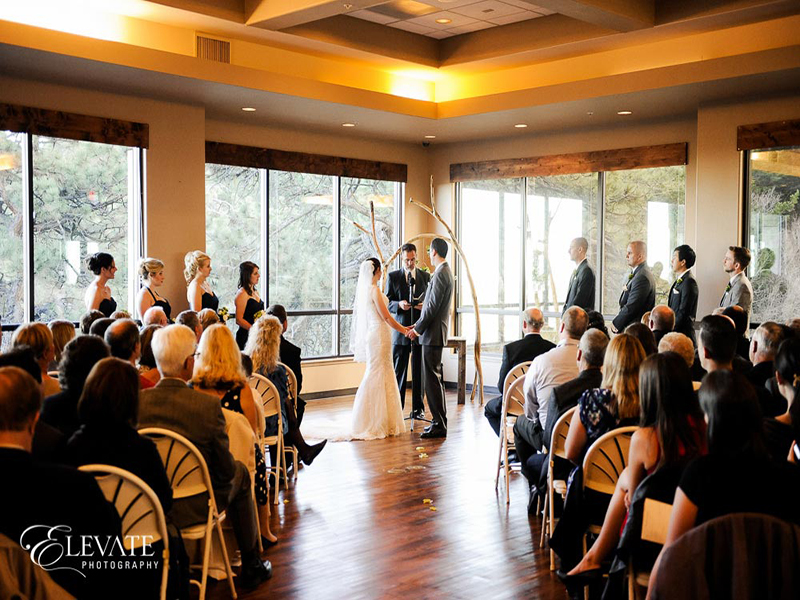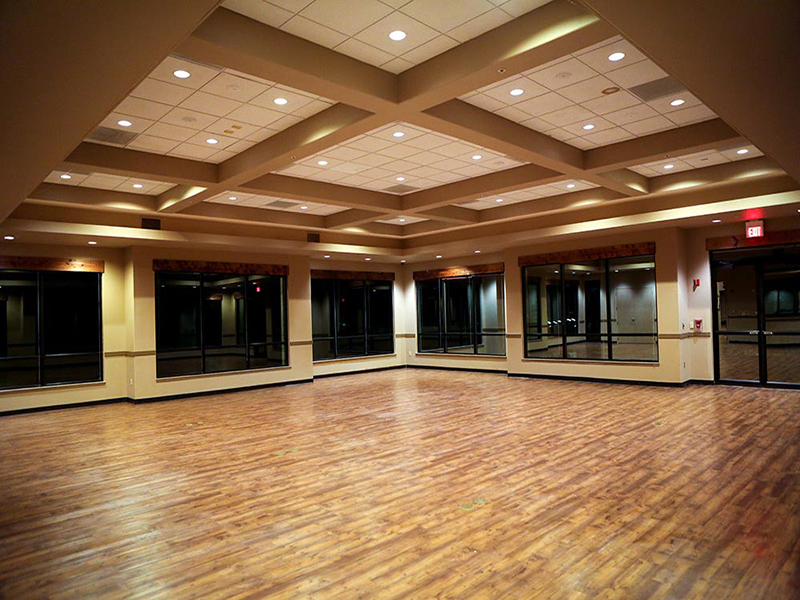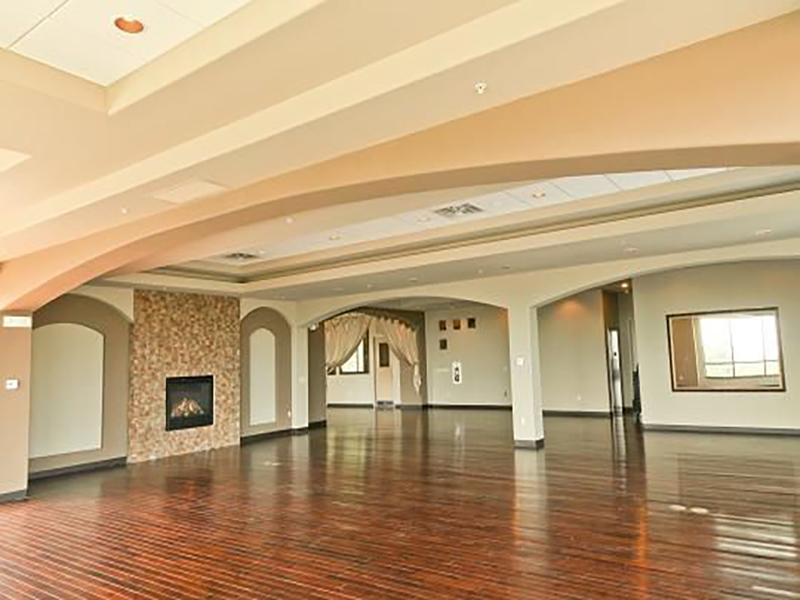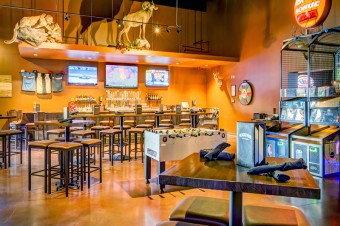 The Wild Game
The Wild Game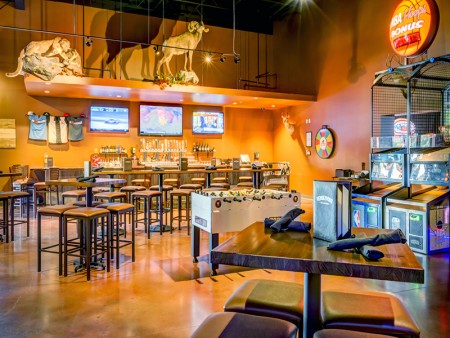 The Wild Game Entertainment Experience is just that, an experience. Featuring multiple areas for drinking, eating, and play it is the premier entertainment zone in Evergreen, Colorado. From bowling and arcade games, to live music and amazing food, The Wild Game is a must-see destination. This full-scale renovation and addition project to an existing movie theater complex sought to bring the facility back to life and create a space that offered the guest a unique experience around every corner. The project includes a family entertainment space including 6 bowling lanes, a full arcade, a music venue with a bar, an intimate wine bar, a taproom, and a full restaurant with a separate VIP party room.
---
Client: Wild Game Entertainment Group
Specifications: 19,000 GSF
Project Link: Click Here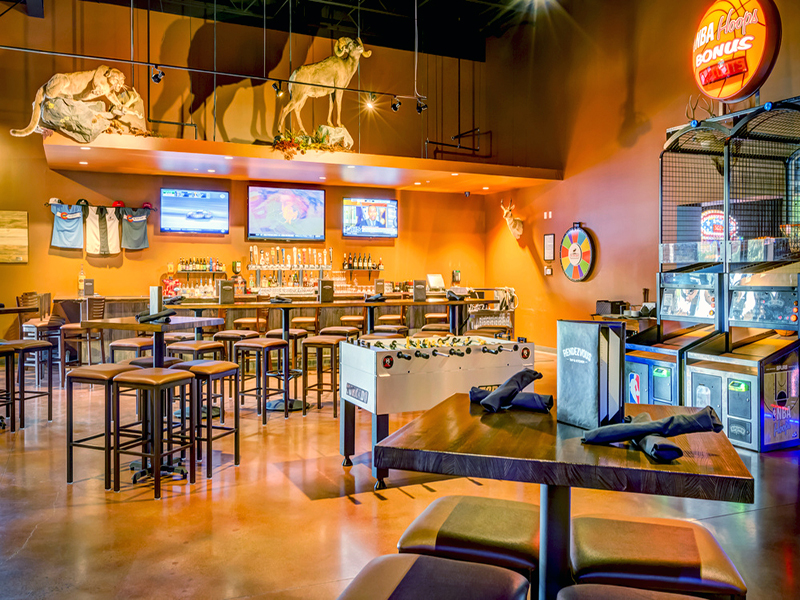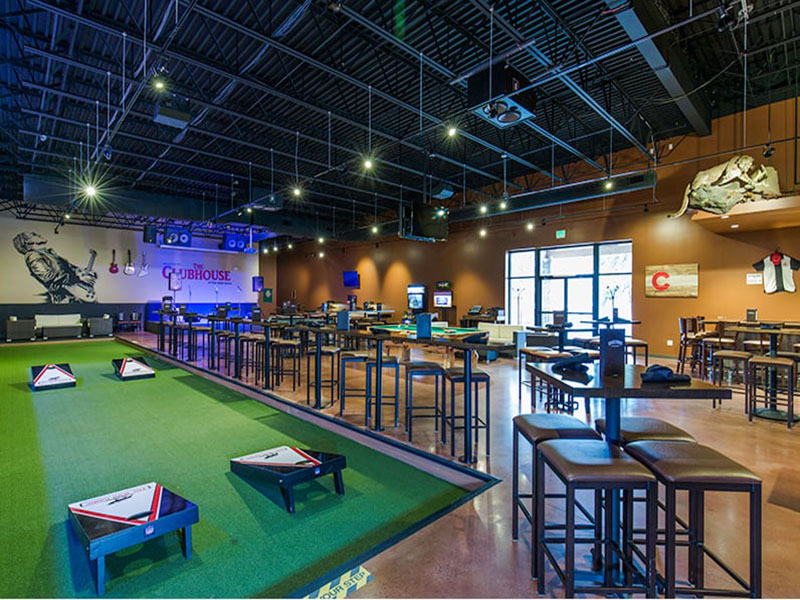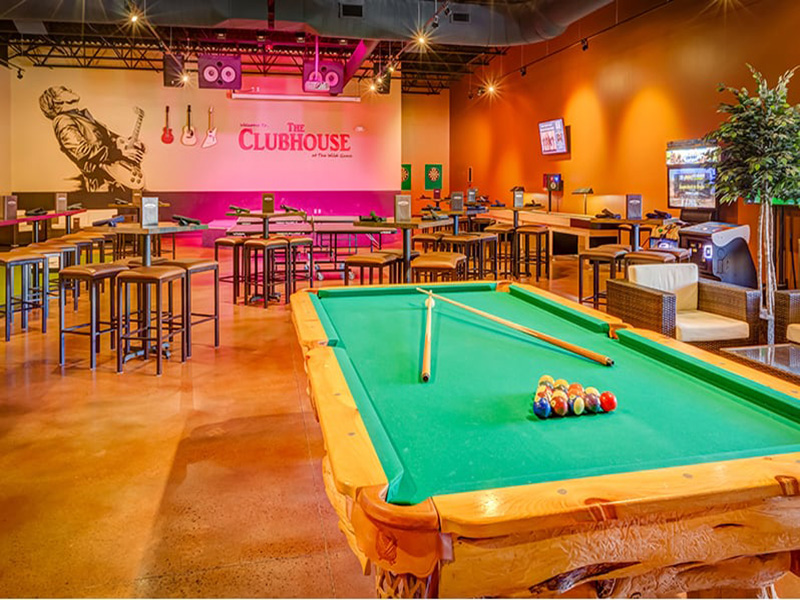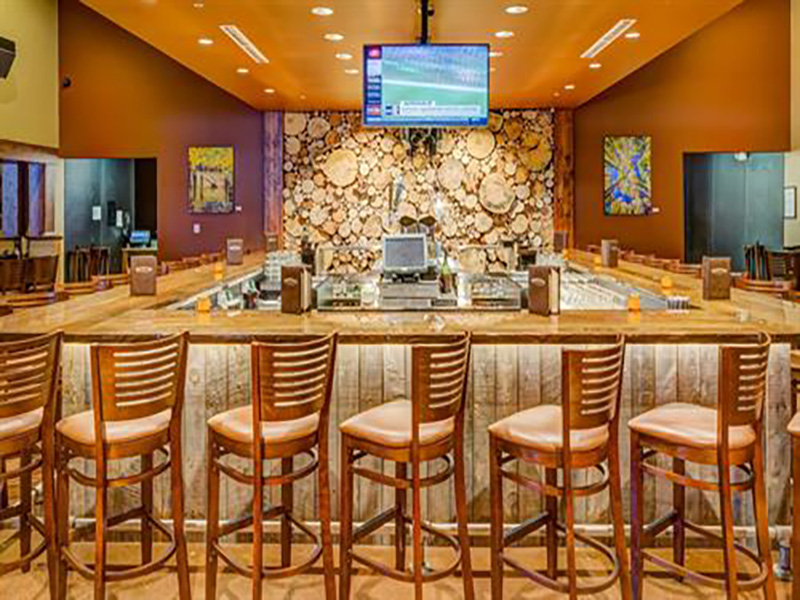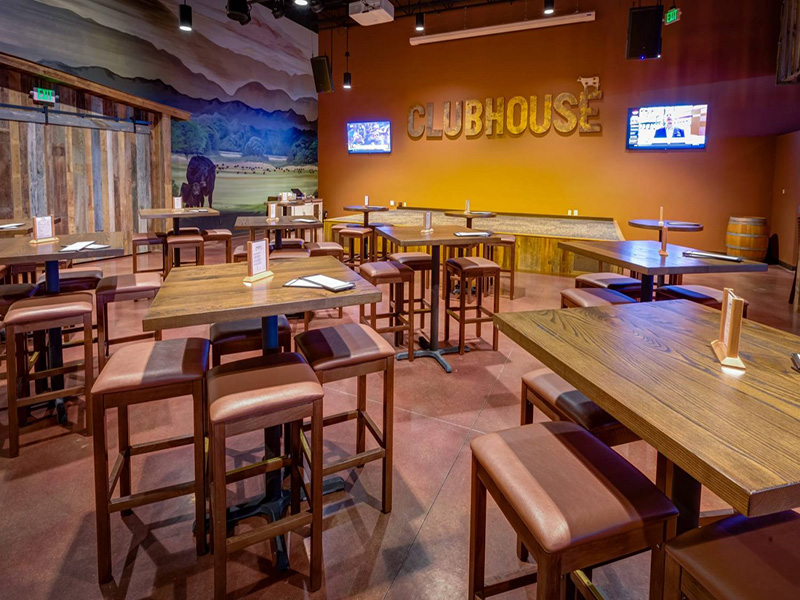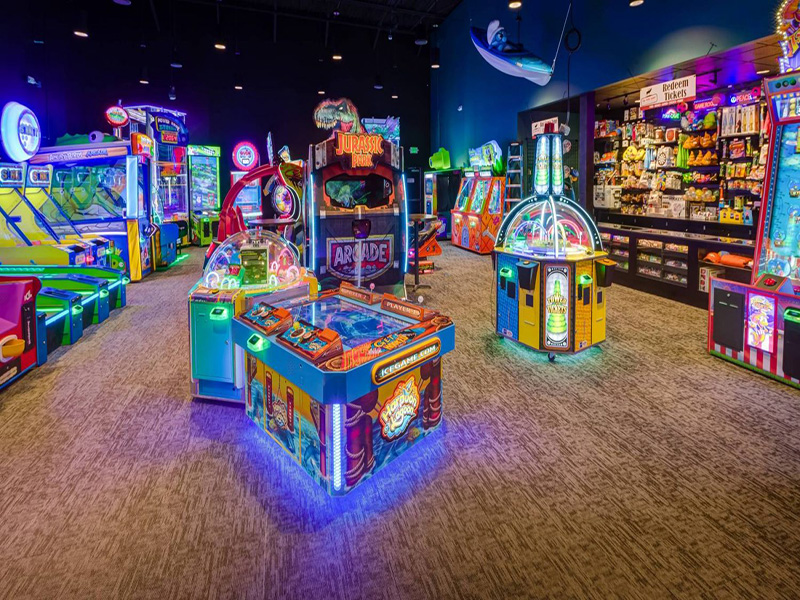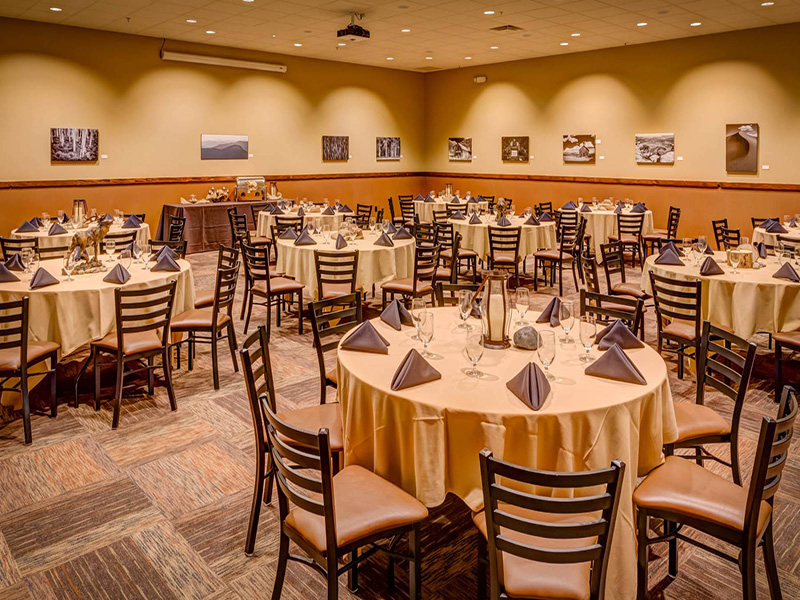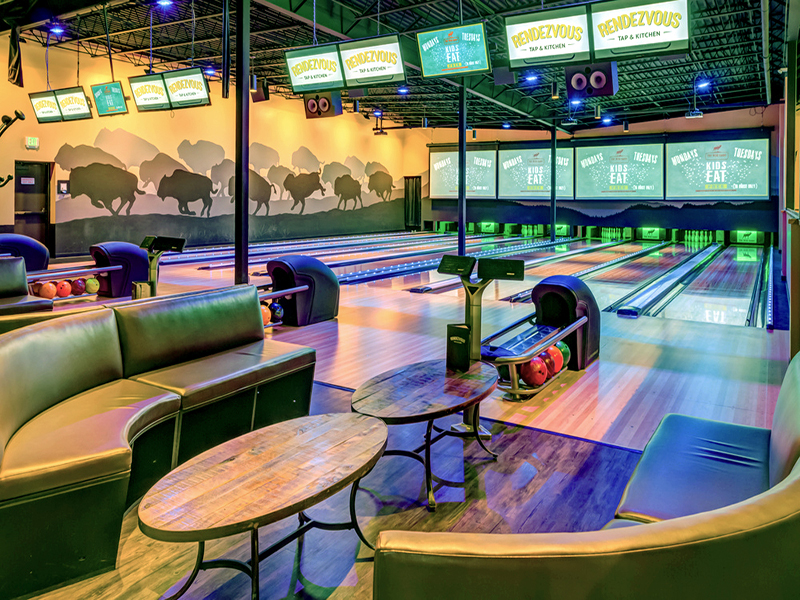 A partnership with EVstudio brings your project to a new level.
Day and night. Event spaces need to be able to work day and night to capitalize on the costs associated with running it. This requires creative thought by the designers so you can run the facility as efficient as possible.

Flow and circulation. It is critical to plan for traffic flow and circulation, so there are no pinch points. EVstudio does not just design spaces for people to gather but analyzes how they move and flow to provide a safe and pleasurable guest experience.

Integration or beacon. Event facilities are either woven into the fabric of a community or an unexpected glimpse of the extraordinary. EVstudio will work hand-in-hand with you to create a space the community will rally around and be proud of.