Since Part 1 of my blog was about my professional self-reflection on my first residential project that I designed and managed by myself, I thought I would discuss the project in depth in this Part 2 series.
The project I keep referring to is a remodel and addition of a single-family residence in Denver. My clients wanted to take the roof off their existing ranch style home and add a new level above. They also wanted to add a detached garage in the back yard. The program of this new living space would become their master suite. It would consist of a master bedroom, five-piece bathroom, walk-in closet, a sitting area, and a rooftop patio. They wanted a contemporary look, both exterior and interior.
Seems simple right? Not quite. What I soon found out was that this lot was unique and different than what my team and I had expected.
I mentioned in Part 1 that this project had many obstacles that taught me how to problem solve. I will explain in more detail the two biggest obstacles on this project. They both had to do with the Denver Zoning Code; the Block Sensitive Setback, and the Building Coverage per Zone Lot.
One of the first obstacles that I faced on this project had to do with the Block Sensitive Setback. This is a term the Denver Zoning Code references. The intent is stated like this, "The Block Sensitive Setback provides a contextual setback responsive to existing conditions and helps to maintain an existing or planned neighborhood character along the same side of a primary street…"
Based on the zoning for my client's lot, we were required to have a Block Sensitive Setback. To figure out what this setback was, I had to reference the survey. The survey showed the Reference Zone Lots on both sides of the property. These Reference Zone Lots were the neighbors. The dimension we had to reference was measured from each neighbor's front property line to the exterior wall of their house. Since my client's existing house was built closer to the front property line than their neighbors, we had to reference the least restrictive dimension of the Reference Zone Lots. See below images for reference (the partial footprint of both neighbor's houses is shown in red). The 34'-11'' dimension was the least restrictive of the two, so we had to use this as our new Block Sensitive Setback Line.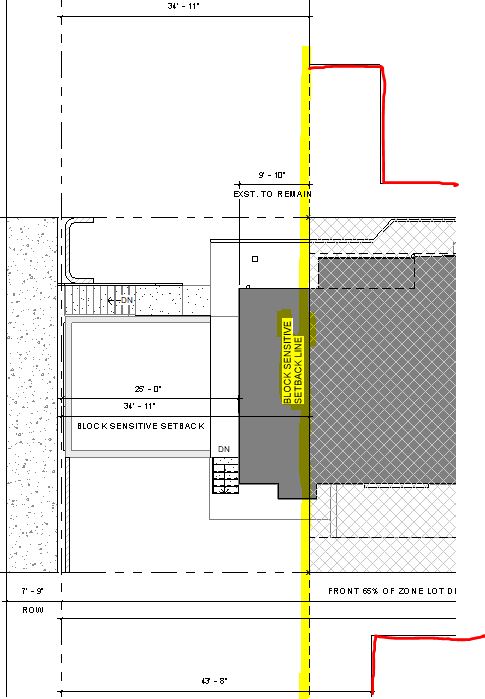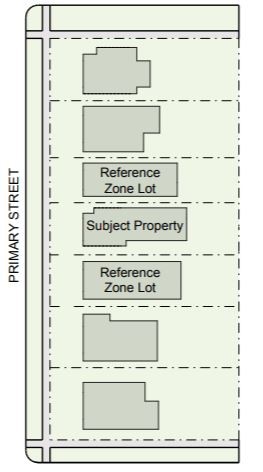 What that meant, per the Denver Zoning Code, is we were not able to build any new construction in this area. My original hope for the design was to use the existing footprint of the house and continue the existing exterior walls up. This would maximize the square footage of their new upper level. Now that I knew what this setback was, there needed to be a new design approach. The Block Sensitive Setback line fell within my client's existing house — 9'-10'' to be exact. Since we were building a rooftop patio above, we were allowed per the Denver Zoning Code to encroach into this space a maximum of 8'-0''. This meant that we had a 1'-10'' gap in the house. We were able to cover this gap with a new roof, as long as it remained hidden from view.
The image below shows the Block Sensitive Setback line in yellow, to the edge of the rooftop patio. Also shown is the new roof below covering the gap between the existing house construction and new construction above. I also provided as a reference, a final exterior rendering of the front of the house.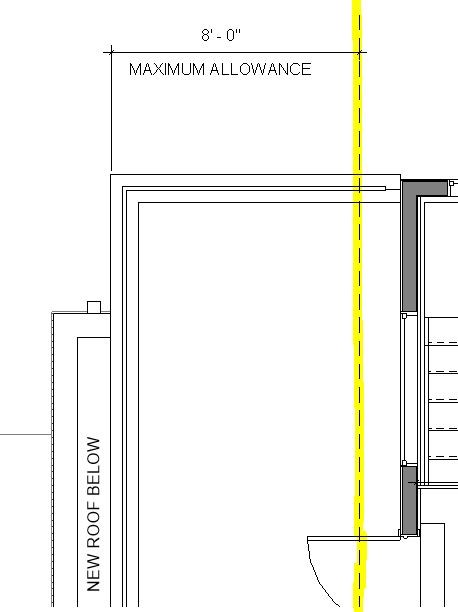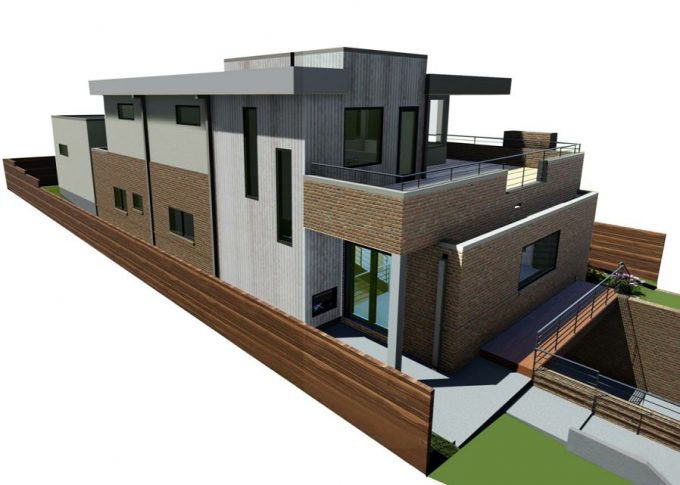 I was able to use that gap as a solution for draining the water under the rooftop patio. The water would run below the rooftop patio and out through a hole on the front facade. This water would pour down on top of the new sloped roof and be carried to the side of the house where there would be a box downspout. This also eliminated the need for more than one downspout.  I was able to take this obstacle and create a design solution.
The second obstacle I want to discuss further is the Building Coverage per Zone Lot, which includes all accessory structures. Based on our zoning, we could not exceed 37.5%. That meant that the existing footprint of the house, and the new detached garage, could not exceed 2,231 SF. Based on the survey, the exterior footprint of the house occupied 1,783 SF, which meant that we were only allowed 448 SF for the detached garage. Based on the size of my client's two cars, we were not able to design an efficient 2-car garage within this limitation. The only option would be to shrink the garage down to an over-sized one-car garage.
I knew that this would not be an ideal solution for my client. After more research within the Denver Zoning Code, I found a solution. I realized that we could apply for an Administrative Adjustment based on the maximum building coverage of a lot. What that meant is that I had to prove our lot faced an Unnecessary Hardship. Within this Unnecessary Hardship, I found that we could potentially qualify for an Unusual Condition. If granted, this allowed for an additional 5% increase to the allowable Building Coverage per Zone Lot. It would allow us to build a functional two-car garage for my client. I knew that the primary street in front of my client's lot was a very busy street. Their existing two-car garage backed out onto this busy street. My clients felt that it was unsafe for them to have to back their cars out onto oncoming traffic. That was why they wanted to close off their existing driveway and build a detached two-car garage out in their back yard that would be accessed from the alleyway. After a Google street view search, I was able to see that all the neighbors on the same block, had already closed off their existing driveways and built detached garages in their back yards. This was the information I needed to continue with the Administrative Adjustment. I scheduled a pre-application meeting with the adjustment team at the city of Denver and was told that we had a very strong case. It was likely that we would be given the adjustment.
This project ended up being a great learning experience for me. Problem-solving is a very important aspect of our jobs as architects and architectural project designers. Our clients depend on us. We are the ones that take their visions of design and what they want, and turn them into a reality. Designing is not just about the design itself, but the process it takes to get there.
For more information on the Block Sensitive Setback, Building Coverage per Zone Lot, and Administrative Adjustment process, reference the Denver Zoning Code Click Here.
If you would like to read how this journey began, Click Here for Part 1 of the series.