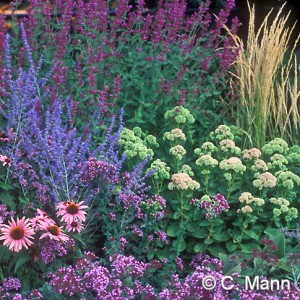 EVstudio specializes in providing low-water use and water conservation landscapes to our clients.
Xeriscape is a common term used as it relates to the landscape architecture profession, especially in the State of Colorado.  According to dictionary.com, xeriscape "employs drought-resistant plants in an effort to conserve resources, especially water".   In Colorado, this is vital for not only water conservation, but also as a money-saving strategy.  Most consumers are not going to plant low water-use plants just because it saves our precious resource, water.  Most consumers plant low-water use plants because it is the cost-effective thing to do.
Another common misconception about xeriscape is that xeriscape is too not have any plantings at all or to have a brown landscape.  This is not correct either.  In fact, the majority of the plant material that is low-water use is rich with color and many are often flowering plants for at least a couple of months of the year.  The image to the right is a beautiful example of low-water use/ xeriscape plantings by High Country Gardens (a landscape nursery and wholesale provider of xeriscape plant material in Colorado). There is a major difference between "xeriscape" and "zeroscape".  Zeroscape is the unpopular, unsightly and evil cousin of xeriscape which typically involves large masses of breeze or rock beds without plant material.  In the Southwest, this is common for rear yards and unfortunately front yards of homes.  Contrary to "zeroscape", is the more common occurence of yards full of Kentucky Bluegrass.  Kentucky bluegrass is far from native to Colorado, yet is dominates the urban landscapes of our cities and towns.
There are alternatives for a lawn other than a bluegrass lawn which will consume over 48-inches of water per year. The image below is of a buffalo grass lawn by High Country Gardens.  Legacy buffalo grass is planted with plugs that will fill in and create a beautiful low-maintenance lawn.
In comparison to bluegrass, xeric turfgrasses such as "Legacy Buffalo grass" utilize 45% to 75% less water per year (requires only 2″ of water per month)!