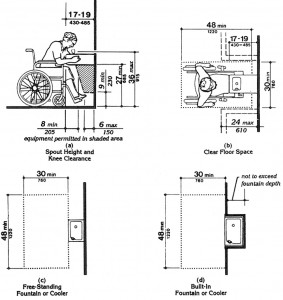 The Americans with Disabilities Act (ADA) requires wall-mounted drinking fountain units to have a clear knee space of at least 27" high, 30" wide, and 17" to 19" deep.  They should also have a minimum clear floor space of 30" by 48", for wheelchair accommodation.
Free-standing or built-in units shall also have a clear floor space of 30" by 48".  The depth of built-in units shall not exceed that of the fountain depth.
Spout heights should be a maximum of 36", measured from the floor to the spout outlet, and should be located at the front of the unit.  Drinking fountains primarily used by children ages 12 and younger are an exception, with the maximum spout height being 30". The spout needs to provide a water flow of at least 4" high to allow the insertion of a cup or glass.
More specifically, ANSI requires the spout to be located 15" minimum from the vertical support and 5" maximum from the front edge of the fountain.  Where only a parallel approach is provided, the spout should be located a maximum of 3 ½" from the front edge.