During the design process clients and builders need area take-offs for estimating pricing on materials for managing an appropriate budget for their project. At EVstudio we utilize Autodesk's Design Review program as a means for clients to review our drawings throughout the design process. Builders also use it for calculating or gathering area take-offs.
Here, I have created an example of calculating areas for siding materials on this garage elevation using Design Review. There is other software out there for the specific purpose of generating area take-offs, but this method is an easy way for an owner or someone not in the building industry to get an estimate on their own.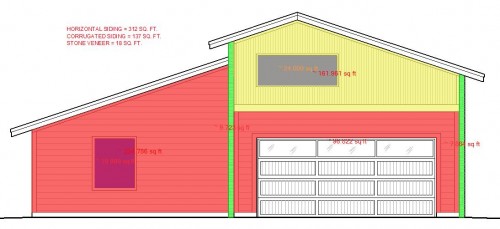 In Design Review, I simply used the "area" tool for generating the square footage of three different siding materials, a stone veneer in green, horizontal wood siding in red, and a corrugated metal siding in yellow. The "area" tool is coupled with the "measure" tool, which looks like a ruler, under it's drop down menu. I simply picked corners or vertices that define the areas needed. As each point is picked the area value keeps updating within the geographical center of that space. When all the points have been selected, I hit the esc. key to complete that particular defined area. For clarity and as a possible method to generate a siding area schedule to compile the data, I chose to apply a color for each material type. For instances where there are windows within an area another area box is needed around them and can then be subtracted from the gross wall area to get the net area of the siding. This same method could also be used in floor plans to generate areas for floor finish materials or a hardscape patio for example.