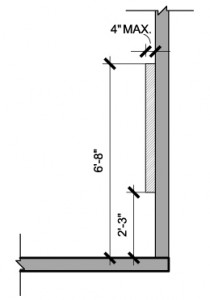 The American National Standards Institute requires that all objects on circulation paths (including telephones and wall sconces) comply with specified protrusion limits to protect the visually impaired.  ANSI 307.2 states that objects with leading edges between 27 and 80 inches above the floor can protrude a maximum of 4 inches horizontally into the circulation path.
Exceptions include handrails which can protrude 4 ½" maximum, and door closers and door stops which are allowed to be 78 inches minimum above the floor.
It is important to note that the ADA's Protruding Objects rules differ slightly from ANSI.  The protrusion limits are the same, however handrails are not considered an exception, and may only protrude a maximum of  4″ into the circulation path.