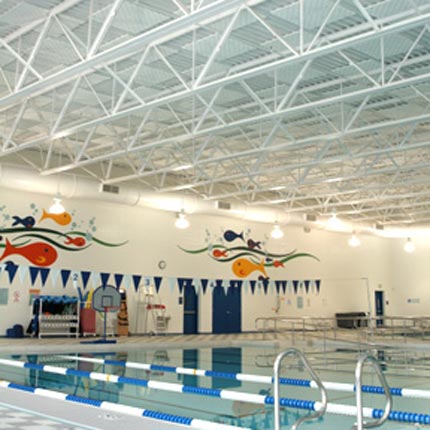 Acoustical Plaster Ceiling (APC) is typically used in indoor pool areas where sound waves bounce off the water, tile, and glass.  APC can reduce the reverberation and echo, creating a more relaxing environment and ensuring that lifeguards and instructors can be heard.
APC typically comes in panels and baffles, and are made from Class 1 fire-rated foam, which are resistant to fungus and microbial growth and can withstand the humid conditions of indoor pools.
Pinta Acoustic offers an acoustic plaster ceiling system called Sonex AFS.  Directly applied to a solid substrate, Sonex AFS consists of a thin fiberglass mesh laminated to Class 1 fire-rated willtec open-cell melamine-based foam panels, offered in a variety of thicknesses.  Joints between panels are taped and finished, then two coats of plaster are trowel-applied to create a smooth, porous surface.  Sound energy travels through the finish and is absorbed into the willtec core to deliver exceptional NRC ratings.
Sonex acoustical plaster ceiling panels are typically used in restaurants, high-end interiors, indoor pools, concert halls, museums and galleries.  The panels provide a smooth, seamless monolithic appearance, excellent sound absorption, fast production times, low VOC, and high light reflectance.