I recently went out to do a punch list review  on one of EV Studio's latest projects which is nearing completion, the Bastrop Station Retail Center.
The responsibility for a shell retail center project normally last about 2 years. The process includes pre-design programming, any local site development requirements, design of the site and building, project bidding, value engineering, permitting, and construction administration.  The Bastrop Station retail center project was no different.
Bastrop Station Retail Center scope for EV studio included Civil engineering of the site to accommodated a 16,000 s.f. retail building that our architectural department designed,  a future building to accommodate a local Goodwill store and regional detention for our site and a neighboring the site. The sites shape, building requirements and grade were unique so multiple detention ponds were design as shown in the following pictures.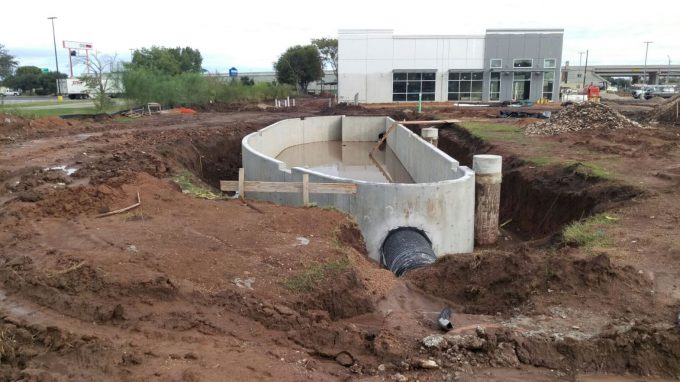 The architectural side of this project started out as a 16,000 square foot pre-engineer metal building but during the value engineering stage with the contractor, Fromberg Construction, L.L.C. the decision was made to change to a concrete tilt wall construction. Luckily we have in house structural engineer which allowed for this change of construction type to be a smoother process. Along with the design of the "cold dark" shell building we also ended up design the white box finishes for two of the tenant, a beauty shop and liquor store that will be moving into the building.

EV Studio has a great amount of experience in retail design, most cases you would think all you need is to design a building. With retail building space there is a lot of future unknowns you need to take into account. Will the building possibly have a restaurant? If so, its a good idea to design a built in grease trap, outdoor seating areas and a drive thru window. Will the building have a business that sells upholstered furniture and or mattresses? If so, the building code will require the space to have a fire sprinkler system? These are just a few of the items that an experienced architecture firm like EV Studio would help define on the front end of a project.