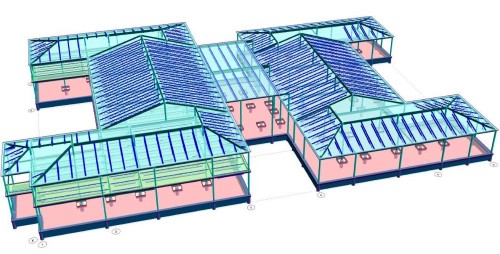 The structural department prefers to use Bentley RAM structural design software for our finite element design needs.  The total design package includes many different tools that can be used individually or together as shown above when several different materials and framing members are used.  The software allows engineers to model a structure in 3D and keep a complete "total" design all in one.  Different framing systems can then be designed using the different tools, but yet all loads and materials are saved into the same model.
This model is of the Company Headquarters building for the Warrior in Transition Project at Fort Hood, Texas.  EVstudio is also designing the Soldier & Family Assistance Center that will be built along with the Headquarters.  We are the design partner for Au Authum Ki who is the contractor and contract holder.

Although the structural software is very powerful, you as the engineer must be fully aware of how each member is interacting with each other and verify the output is correct.