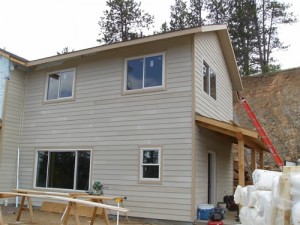 There are standard guidelines for designing a Habitat for Humanity 'Base House' regarding size, floor, wall & roof systems, exterior materials, windows & doors, and heating & ventilation.  The guidelines vary depending on location.  EVstudio has worked on a number of projects with Blue Spruce Habitat for Humanity which covers Jefferson, Clear Creek, and Park Counties. these are some of their base house design guidelines.
Each HFH home usually requires 3 bedrooms.  Two and four bedrooms homes are only built under special circumstances and requires approval.  Required program requires a living room, kitchen/dining area, bedrooms, and one or two bathrooms.  Blue Spruce Habitat homes typically do not require garages, carports or storage sheds.  Two & three bedroom homes each need to have one full bath, where a four bedroom home must have two.  All homes need to be provided with a laundry area to accommodate side-by-side washer & dryer units.  The square footage requirements are as follows: two bedroom-900 sf, three bedroom-1050 sf, and four bedroom-1150 sf.
Typical concrete slab foundations and 2×6 wall construction with R-19 fiberglass batt insulation is required.  Roof pitches are to be between 4 and 6:12, and must be asphalt shingles.  Alternative building materials such as straw-bale, rammed-earth, or adobe can be used only on a board-approved basis.  Crawlspaces require R-11 insulation applied to the inside of the foundation walls above grade.  Exterior walls need the standard structural sheathing, with Dow 'Weather-mate' house wrap installed on top.  1″ Dow Styrofoam then needs to be installed on top of the house wrap.  Fiber-cement lap siding is typically required.  Vinyl and aluminum siding are not allowed.
Window selection is important to passively control heat loss or gain and to provide effective ventilation.  Vinyl, double-glazed, 'Low-E', Energy Star rated windows are required for occupant comfort and energy savings.  Exterior doors are to be insulated steel-clad or fiberglass.
Most Habitat homes will be provided with  a radiant floor heating system, if the qualified volunteers are available.  Otherwise, the home will be provided with a forced air heating system.
Interesting to note that Habitat base homes have very specific closet requirements.  All require a front entry closet, bedroom closets, a pantry, and linen closet.  Master bedroom closets need to provide a minimum length of five linear feet, and secondary bedrooms must provide four linear feet, each including one single rod and one twelve inch paint-grade shelf.  The linen and pantry closets need four paint-grade sixteen inch shelves, and the front entry closet needs one rod and twelve inch shelf.
The partner families are allowed to select certain items at no extra cost, such as carpet & vinyl flooring, window blinds, and counter/vanity tops.  The families are also involved in the design process and are allowed to review the designs and make minor adjustments to fit their needs, without altering the specified base home program.