Tilt-up construction was the architectural answer when Dirk Marcum approached neUdesign (now EVstudio) and partnered with our team to create the architectural design of their 9,336 SF, one-story industrial style commercial building located in Boise, Idaho. This four-phase project shows just how versatile the Tilt-Up Construction method can be. Typically, this type of construction is used in industrial buildings, warehouses, manufacturing buildings offices, etc. Tilt-Up construction offers flexibility in design as well.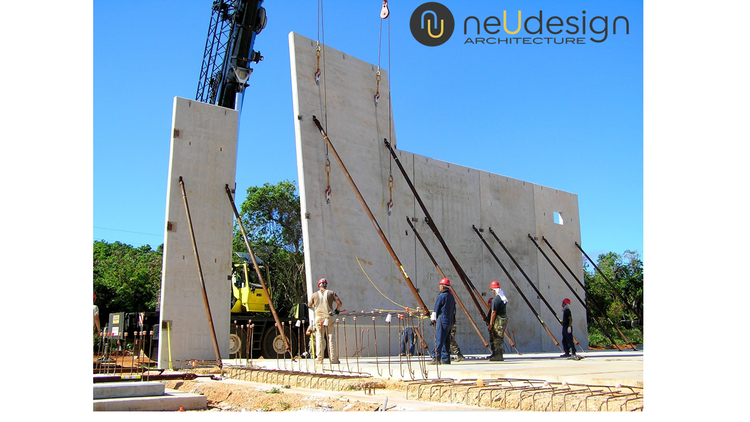 What is Tilt-Up Construction
Tilt-up construction is where the foundation of a building is poured first and then the building's walls are created horizontally in large slabs of concrete called panels. The panels are then tilted or lifted by a crane and set into place on the building's slab. When the walls are tilted into place the exterior structure of the building appears finished. Then concrete is poured back around the perimeter of the project securing the slabs into place.
Timing
The concrete panels only take a few days to cure and because tilting them into place is so quick it is less labor-intensive than other construction methods. Also, the later stages of construction on the interior can start sooner because the exterior worksite is enclosed quicker.
Benefits of Tilt-Up Construction
Tilt-up construction is an economical way to build a building. Rapid panel construction helps shorten construction schedules. Also, the reduction in the use of steel and concrete offer significant cost savings.
The Design
To help offset the industrial concrete look of the building wood panels with a dark bronze finish were incorporated into the exterior of the building. Architecturally this helped add some dimension and contrast to the exterior of the building. The project itself was designed to be one large open space that could easily transition into multiple uses.

Lessons Learned
Meeting energy compliance on a Tilt-up construction project presented a few challenges. Since the building is concrete, hot and cold temperatures could easily penetrate the building. The team met energy compliance by incorporating a slanted roof with rigid foam insulation, which provided a higher R-value. Also, the walls and foundation were insulated as well.
Thanks to our partners
This project would not be possible without a team of great partners who are working together with neUdesign (now EVstudio) including KM Engineering (Civil); Structural Edge Engineering (Structural); Tikker Engineering (Mechanical and Plumbing); and (E2CO) Electrical Engineering Company (Electrical).