We continue to supply structural engineering services for a premier front range builder, Century Communities.
We provide specific observations at key times during the construction process to ensure proper and adequate installation of the steel rebar and concrete in the footing and wall forms for the basement. Prior to issuing site specifics we provide a full set of construction documents to submit to the city which they will use for a full permit set to begin development of the community.
Upon construction start of each lot we supply the builder with a site specific foundation plan with the footing and wall sizes with hold down and strapping locations for the framing as well as typical and specific details to reference on site. While on site we are also available for questions or concerns of really any situation that may arise to assist superintendents, foremen, carpenters, and really anyone involved in the project. We want to make sure that our designed structural system is built upon to properly and our system does not interfere with all other systems being built and installed in the home. So communication and proper planning is encouraged and vital to all systems integrity being maintained during the construction process.
These are just a couple of  services we can provide for builders to help provide a smoother process through the permitting sign off process. Please contact us any time to discuss all of our available services.
As a followup to my last post on providing field observations of the footings and foundation walls for Century Homes.
https://evstudio.com/production-builder-footing-observation-in-front-range-colorado/
I now provide you some pictures of the progress made over the last thirty days.

The footings now provide the base of  the home. As you can see here progress is moving swiftly. Structures are up on most of the foundations and they are starting to dry them in. Once roofing is complete the interior and finish work begins. About another 30 days for that.
Below footings are about to be poured on the last empty lot on Union Ave. (except where the construction trailer sits).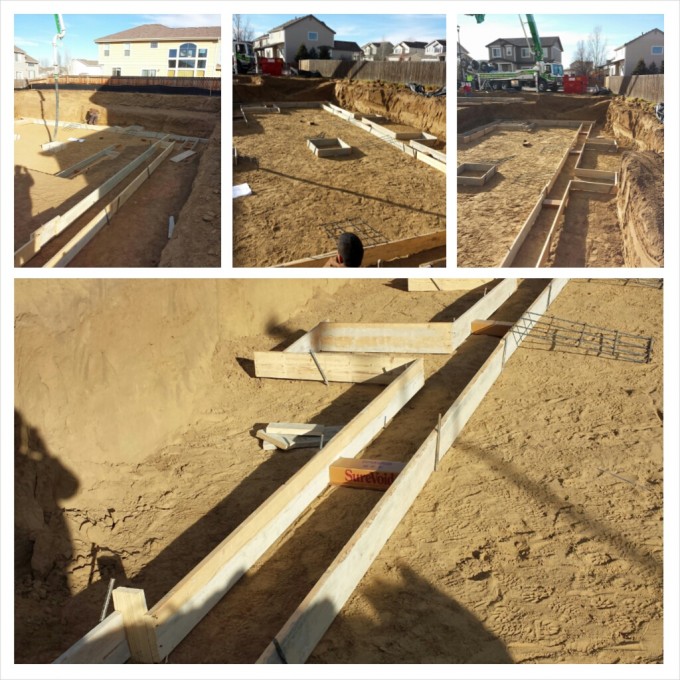 They have just completed the construction of the extension of Twilight Ave and will continue progress of the Oak Meadows community and EVstudio will continue to be their structural engineer.