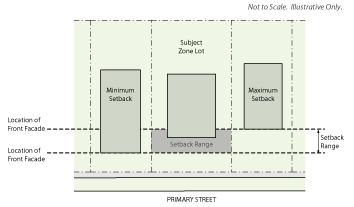 There are a few changes to be aware of when designing a Residential Site Plan under the new Denver Zoning Code.  Under the old zoning code, the front setback was determined by averaging the two adjacent structures' front setbacks.  The new code's setback is not determined by an average, but rather a range.  The structure must not be any closer or further back than the adjacent structures are to the front property line.  All adjacent setback dimensions must be shown on the Site Plan.

Another new requirement is what they call the Original Grade Elevation, which are spot elevations at the intersection of the side property lines and the minimum front setback, as determined by the setback range.
The Front and Rear Primary Base Planes are another new requirement.  The Front Primary Base Plane is calculated by averaging the two Original Grade Elevations.  The Rear is calculated by averaging the two rear spot grade elevations at the rear property corners.