The Copperas Cove Leader Press featured an article on Friday March 1, 2013 about the new official relationship between the Copperas Cove ISD and EVstudio.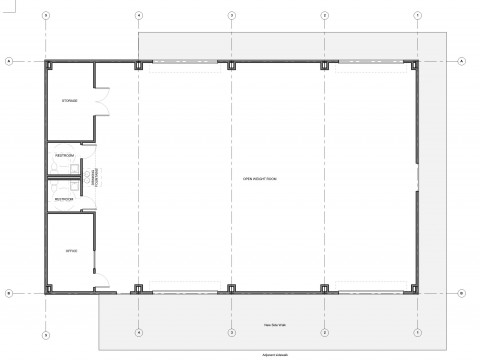 Floor Plan of SC Lee Junior High Weight Room
On Tuesday Feb 26 the School Board of Trustees met to sign the first design contract for a new Weight Room facility for SC Lee Junior High in Copperas Cove, TX.  EVstudio's relationship with the school district is an exciting new development for both parties. We are excited about the opportunity to do more work in our community that will directly influence how the children here experience their education. This relationship with Copperas Cove ISD is just one more step in being more involved in the Cove community. A chance to be more involved in the city that we work is an amazing benefit to coming to work everyday. What better opportunity than being able to help the School District with their spatial needs. This relationship is directly beneficial to CCISD as well. The Leader Press references CCISD's want for a local architect that understands this community and has an inherit interest in its well-being. Luckily for them that is what we all about. Gene Dane has children in this school district, and has been a part of the Copperas Cove community for a long time. His lasting interest in his hometown is what led him to open the EVstudio Office in Cove.
The weight room is a 4,000 sqft space that will feature deep eaves, ridge vents, and louvers to mitigate the harsh summer sun. The building is to be complete by the beginning of the school year. This project will hopefully be one of many in a long-lasting mutual relationship between EVstudio and the Copperas Cove ISD.