Join us for the Connector Trail Celebration!
We're almost done with a large community project EVstudio was involved in. Come celebrate with us on June 3!
The long-awaited Evergreen Lake Connector Trail is almost finished, and Evergreen Park & Recreation District (EPRD) and the Downtown Evergreen Economic District (DEED) would like you to join us in celebrating with a Community Walk from downtown to Evergreen Lake House on Wednesday, June 3, 2015. We'll finish up by cutting the ribbon during the season's first Evergreen Lake Summer Concert.
Parents, bring your kids and strollers! Wheelchair and walker users, join the fun! This is our chance to celebrate that Evergreen finally has an accessible lake trail!
Start Walking at Beau Jo's
The walk starts at 5:30 PM in the parking lot in front of Beau Jo's Pizza in downtown Evergreen. Following a short ceremony recognizing the people and organizations that made the project a reality, we will take to the trail, crossing the new 200-foot sloped bridge on our newly accessible way to Evergreen Lake House. The walk is about three-quarters of a mile long.
Cut the Ribbon at Evergreen Lake House
Officials will cut the ribbon for the new Connector Trail at the Summer Concert at Evergreen Lake House at 6:15 PM. Please stay and enjoy the concert, featuring the rock band Egg Planet, which ends at 9 PM. Shuttle buses will be available to return walkers to their cars downtown, or they can walk back on the accessible trail.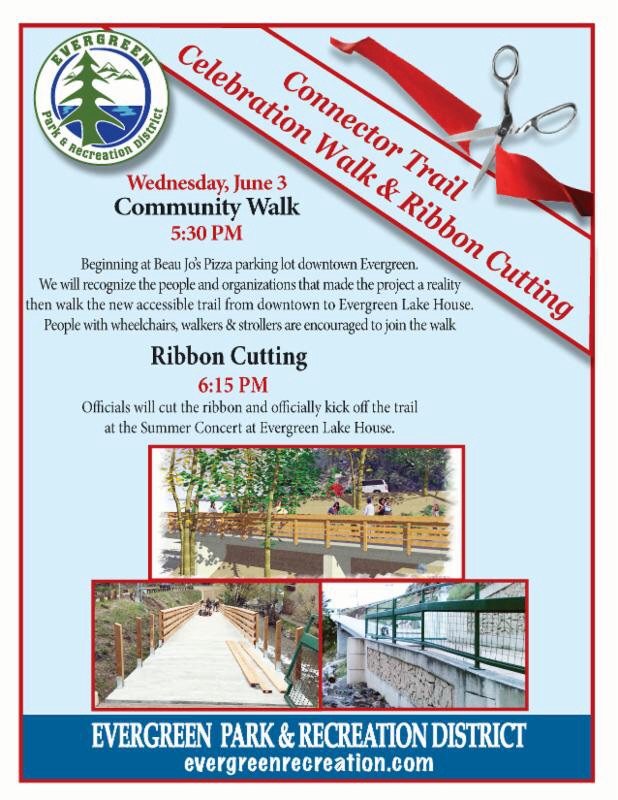 The Connector Trail project was funded by a $250,000 grant from Great Outdoors Colorado (GOCO) and a $30,000 contribution from DEED's Evergreen Legacy Fund (ELF), plus in-kind donations of services from EVstudio and CenterPoint Integrated Solutions. The Legacy Fund is derived from a voluntary 1 percent donation on sales of products and services at businesses to support infrastructure.
Questions?
Email info@eprd.co or call 720-880-1020.