Thrive Home Builders, one of EVstudio's very own clients, was recently awarded '2017 Home Builder of the Year' by Professional Builder Magazine. This prestigious award is so well deserved by an innovative and responsible company. And, it sure does make things exciting here at EVstudio as we work with Thrive to develop new communities. Thrive Home Builders leads the industry by providing homes that perform to standards set by the US Department of Energy's Zero Energy Ready Home program, as well as the EPA airPLUS program. This means that their homes produce as much energy as they consume, and the indoor air quality far surpasses that of typical construction. Some of the technology used to accomplish these standards include the use of a double 2×4 exterior wall with R41 blown-in fiberglass insulation and solar panels combined with the Tesla Powerwall used to store the additional energy produced. Thrive also uses air moisture control systems, radon-resistant construction, low-emitting building materials, along with efficient heating and air conditioning systems to combat radon, formaldehyde, and ozone.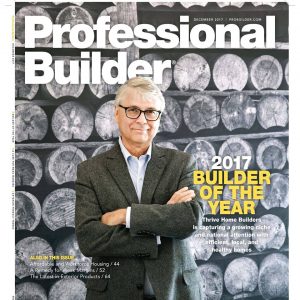 How is this exciting for EVstudio? EVstudio provides both structural and mechanical services for Thrive Home Builders, and they push us to come up with innovative solutions. Using double 2×4 exterior walls is not standard building practice, and with this, EV's structural team had the opportunity to analyze new load paths, and draw up new construction details for Thrive homes. Additionally, with solar panels as the standard and the Tesla Powerwall as an option, EV's structural team recalculated typical loading and provided framing specifically for supporting the Powerwall.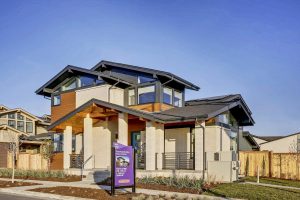 The members of the structural team aren't the only EV design professionals with unique design challenges presented by Thrive Home Builders. Thrive's high insulation value standards give EV's mechanical team the opportunity to reduce cooling and heating loads. They also get the chance to design with highly efficient equipment.
On top of all of this, Thrive Home Builders works hard to coordinate all design disciplines early on in the process. Architects, Mechanical Engineers, Structural Engineers, Civil Engineers, Contractors, and Subs, etc. are brought together at the very beginning to iron out kinks from the get-go. This is early coordination aligns well with EVstudio's mission, since we are a multidisciplinary firm who understands the importance of early coordination between design specialties.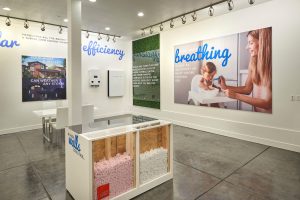 Thrive Home Builders pushes boundaries of building technology and industry standards, and we look forward to working with them as they continue to do so.