EVstudio received planning commission approval for a 190-unit multifamily complex in the City of Lone Tree.  Lone Tree, looking to become a sort of Denver South, required a design both timeless and current, familiar as well as appealing to today's client.
To meet this goal, EVstudio proposed a classic Denver look akin to the great brick structures throughout LoDo – an elegant building to become a cherished part of the new city's fabric. In our design the end towers and the central tower along Ridgegate Parkway recall design elements that you see throughout the great cities of America; an open and welcoming ground floor, upper floors with increasingly taller ceilings and enormous glass to bring in north light.  Surface patterning on the facades rendered in brick and stucco provides detail and warmth.  A modern, double height sales office clad in rich storefront appears as a modern intervention within an ancient building.  Splashes of color catch the eye at the canopies (Schwab Blue at the sales center, Starbucks Green at the retail) to signal the overall attitude of the building.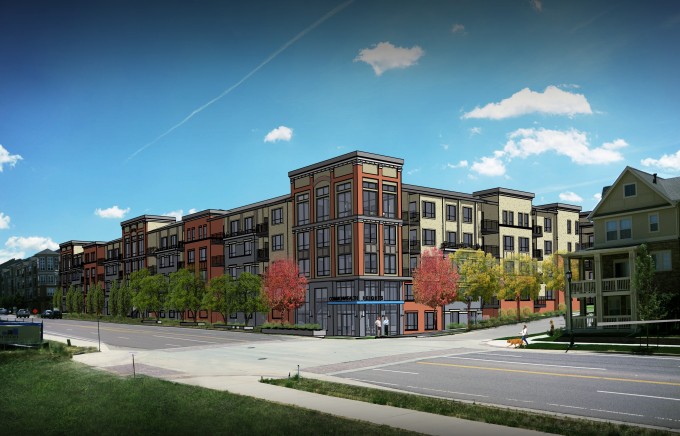 This site which drops 25 feet diagonally across the property demanded changes across the facades.  What is a four story building along one street is the equivalent of six stories on the opposite corner.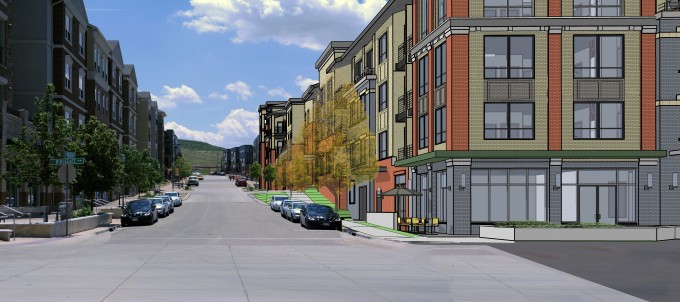 The next step in the process is a visit to the city council and then on to construction.  Groundbreaking is set for June 1, 2014, with the first units available in roughly 10 months.