EVstudio is working with SunBridge Healthcare on the complete renovation of their 47,000 square foot Pueblo Care and Rehabilitation Center in Pueblo, Colorado. Also included in the project is a proposed new 3,000 square foot Occupational Therapy gym addition to the existing building, along with outdoor therapy garden and development of additional on-site parking. Once complete, the project will house their current long term care residents in a newly renovated and fully updated environment, along with a wing to house their new state-of-the-art Rehabilitation and Recovery Suites.
The project will involve EVstudio disciplines for Architecture, Structural Engineering, Civil Engineering, Landscape Design, Lighting Design and Surveying. Other local disciplines required for the project, but managed by EVstudio, include Mechanical and Electrical Engineering.
The As-Built drawings for the existing facility were developed in Revit. Having the 3-Dimensional information for every part of the building has been tremendously helpful in the schematic design of the existing space renovation as well as design of the new space. It has also been instrumental in communicating all of the facets of every space to the Owner, Contractor, and the rest of the Design Team. Floor plans, elevations, sections, and rendered perspectives can all be derived from the model and having a BIM model will help the facility in its maintenance operations long after construction is completed.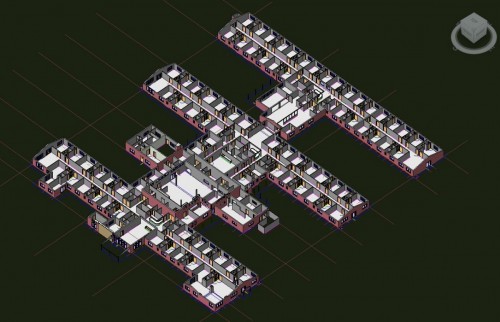 With nearly eighty resident rooms, three nurses stations complete with med rooms and charting offices, a full commercial kitchen and two large dining rooms, over a dozen administrative offices and dozens of other accessory and support spaces like activity rooms, conference rooms, a salon and a chapel, this project encompasses a wide variety of project types that often are individual projects in their own right. Seamlessly integrating all of these functions into one cohesive and highly efficient facility draws on the collective expertise that we share here at EVstudio.
For more information about this project, contact EVstudio at 303-670-7242 or e-mail design@evstudio.us