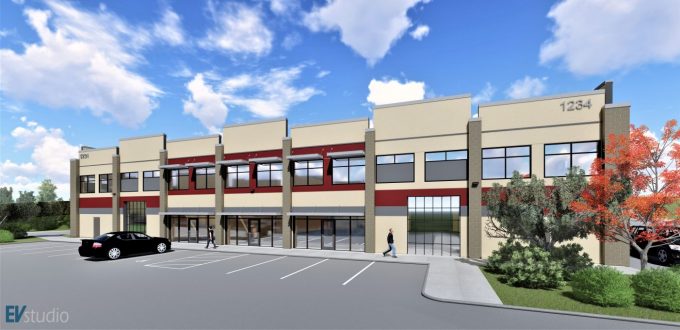 EVstudio is completing the design of a new business park in Broomfield targeting an underdeveloped market for smaller footprint for-sale and for-lease space.  The development provides flexible core and shell space for a wide variety of allowable uses, but specifically targeting tech office and business incubator use.  It is ideally suited for "maker" space and other small businesses.
The project provided many challenges for the full-service EVstudio design team.  The long, narrow site (1800'x270') dictated the need for multiple smaller buildings and a layout of nine buildings with footprints of 10,000-15,000 SF each ultimately provided optimum utilization.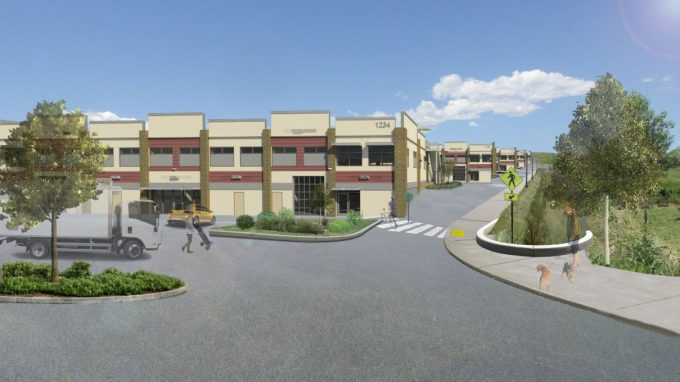 The western two-thirds of the site also slopes substantially.  To accommodate this slope the EVstudio civil engineering and architectural design team developed a unique site scheme in which five of the buildings offer a second-story entry on one side.  This offers options for tenants to have overhead door access on the side of the building that is two-story height, and a storefront entry on an upper-level mezzanine or second floor on the side that is only one story in height.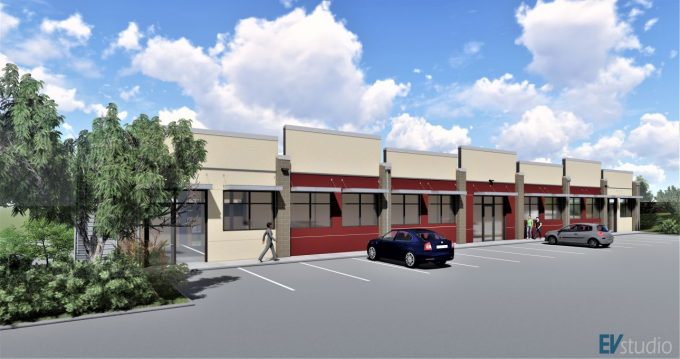 Flexibility for tenants was vital for the developer to maximize their sale and lease opportunities.  But a restrictive site plan review process made developing conforming building elevations a challenge.  Consequently, the EVstudio architectural design team developed a creative "plug-in module" building shell configuration.  Each structural bay on certain sides of each of two building types can be configured to accommodate different tenant needs by using one of a selection of elevation "modules" with varying door and window configurations.  Some modules offer overhead doors, some offer storefront, some offer mezzanine windows, and so forth.  Each module creates a rhythm of design elements that carry across the façade no matter the configuration.  The jurisdiction approves the portions of the shell that are consistent across all the buildings of each type and approves the modules that can be used in each flexible bay, satisfying their requirements for design consistency and the client's need for flexibility.
A portion of the site is unbuildable due to grades and a drainage ditch, so it has been incorporated into the other open green space of the site as an amenity with a fitness trail and gazebo.  In addition, several buildings offer a rooftop deck for tenant use as another amenity and to give access to sweeping views of the Front Range and metro area.  The site is in a Transit Oriented Development area and is designed to be pedestrian-friendly with over half a mile of walking trails on-site and pedestrian access to over 1,000 local residential units, making it an ideal location to appeal to new business talent.
For more information visit www.northwest36.com.