EVstudio was contracted by Sun Spot Solar, LLC to design concrete pier-footing foundations for Wattsun AZ-225 model solar trackers. Solar trackers are an innovative way to maximize solar energy collection by motorizing the photo voltaic (PV) solar panels themselves to track the sun's daily path across the sky.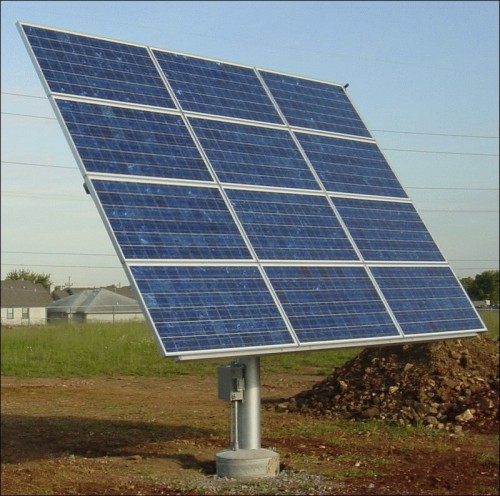 From Wattsun's website:
"A Dual-Axis Tracker enables automatic tracking of the sun's elevation as well. Dual-axis trackers completely capture all the power the sun delivers. Dual-Axis Tracking is included in the price of the AZ-225 Tracker and is an affordable option on the AZ-125 Tracker.
Environmentally-friendly, Wattsun active trackers are guided by a patented, optical, sun-sensing device that dramatically outperforms passive tracking systems. Solid state electronic design and positive drive mechanisms insure consistent operation in extreme temperatures and windy conditions. Manufactured from the finest quality materials, Wattsun™ Trackers are easy to install, easy to operate and inexpensive to maintain. Wattsun Trackers are manufactured in the USA."
The major design concern EVstudio faced with this foundation design was resisting the lateral forces exerted by the wind. The way the solar trackers are constructed the panels themselves act as a large "sail" when the wind blows. What made this project interesting was that due to the ability of the solar panels to change orientation the wind forces will exert different pressures on the panels depending on their angle in relationship to the ground. While the final foundation product was relatively straightforward and easy to construct, it was the result of numerous iterations of calculating the different pressure scenarios.