LIV SOTHEBY'S INTERNATIONAL REALTY ANNOUNCES PARADE OF LUXURY HOMES, EVERGREEN
EVstudio's Silver Rock Manor at 1295 Silver Rock Lane featured as final stop in the Parade. For more information, see www.evergreenluxuryparade.com
In an effort to promote the incredible lifestyle experience of living in Evergreen, Colorado, LIV Sotheby's International Realty announced the 2015 Parade of Luxury Homes, Evergreen (PLHE), which will take place May 31, 2015. This all day event will share the latest in luxury home design with the community by welcoming the public to tour 8 distinct properties in Evergreen- all priced above $2.5 Million- from 11am to 6pm. All are available for purchase. Local Evergreen businesses including the Center for the Arts Evergreen, the Evergreen Chamber of Commerce, and a host of Evergreen boutiques, restaurants, and businesses will participate in the event, offering a taste of Evergreen living with PLHE participants.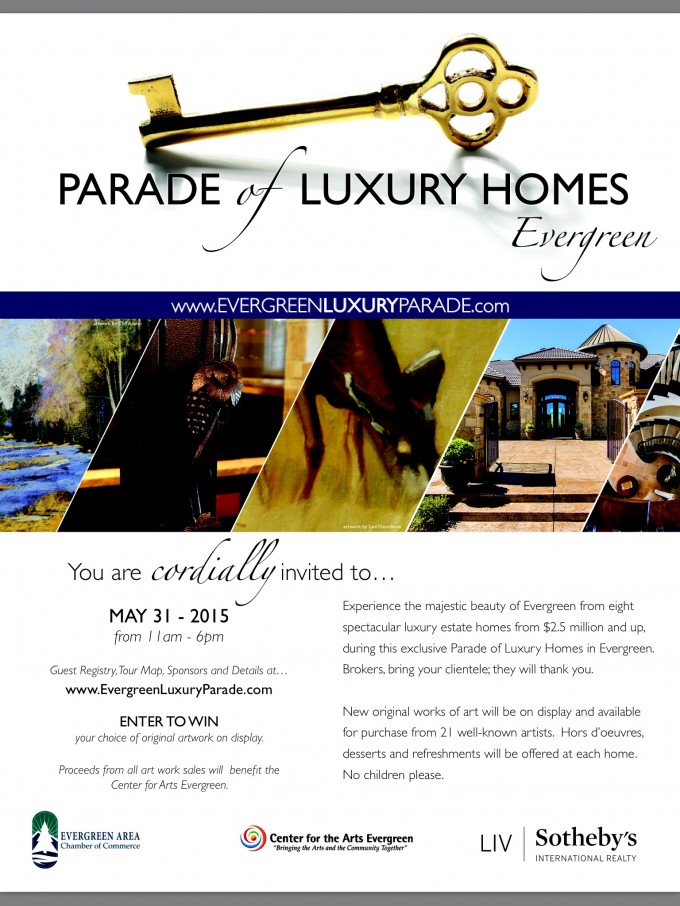 Parade of Luxury Homes, Evergreen originated through the efforts of LIV SIR broker, Kerry Endsley, to support Center for the Arts Evergreen and to gain exposure for the unique luxury listings the Evergreen community offers.
"With the shortage of home inventory in Denver metro area, we have a chance now to become the mountain alternative just 20 minutes west," said LIV Sotheby's International Realty broker, Kerry Endsley. "Here, buyers still have great selection and value."
Never before has an exclusive parade of homes been offered in Evergreen for true luxury properties only. A very large turnout is expected, including high producing luxury brokers, their buyer clients, and their agencies throughout Boulder, Denver Metro, Castle Pines and the front range/foothills market west of Denver. VIPs associated with the real estate industry, bankers, jumbo lenders, title companies, and realtor associations will be present.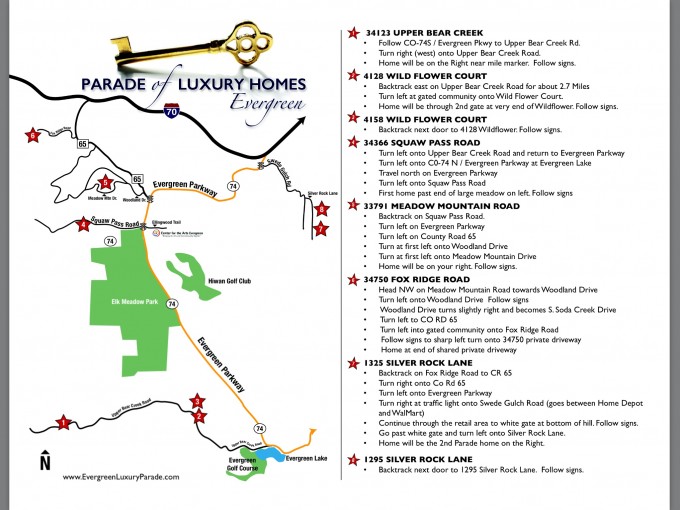 The event benefits Center for the Arts Evergreen (CAE), a local nonprofit. Two well-known artists will be present at each home, displaying their latest original works which will be available for purchase during the tour. Proceeds will benefit CAE if sold at the event or any time thereafter to registered guests.  There will also be drawings for brokers, buyers and other guests to win their choice of piece of art on display that day.
"We chose Center for the Arts Evergreen as the beneficiary because of the amazing work they do bringing art of all kinds to the mountain communities around Evergreen," said LIV Sotheby's International Realty broker, Kerry Endsley.
The Evergreen Chamber of Commerce will also promote the event. Through participation and contributions from local, banks, wineries, caterers, wealth managers and home owner's insurance companies, and more, the Chamber hopes to showcasethe lifestyle experience of the Evergreen area community.
Serenity Magazine, Mountain Metro Association of Realtors and Denver Board of Realtors are promoting the event.  Land Title, Chicago Title and First Bank are all co-sponsors of the event.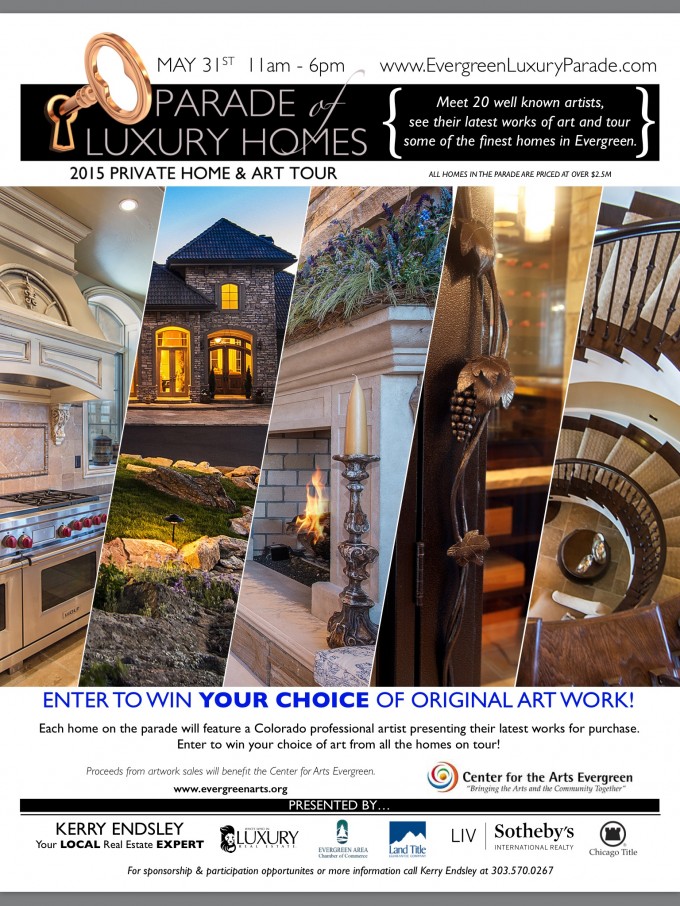 Guests of the Parade will enjoy hors d'oeuvres, desserts, drinks, and takeaway packages at each home on tour and a broker will be on-site at each home to answer any questions. All of the homes on tour are in close proximity and none are more than 15 minutes from I-70.
"This event will put Evergreen on the map as a high class alternative to luxury living in Denver Metro or mountain resort communities to our west, while gaining great exposure for sellers," said Endsley. "We will promote Evergreen area real estate affiliated companies that we work with and depend on every day to be successful, promote Evergreen area merchants that are the fabric of our community and that support our real estate industry, and will contribute to the Center for the Arts Evergreen and their area artists."
This VIP open house event is offered by invitation, and encourages top tier broker professionals and their buyer clients, especially from Boulder, Denver Metro and Castle Pines, to allot time to tour all the homes on tour. An event sure to cause a buzz in the Colorado real estate industry, the 2015 Parade of Luxury Homes, Evergreen will not disappoint.