INT. ARCHITECTURE OFFICE – MORNING
A bustling architecture firm in Denver's Golden Triangle District is filled with the hum of telephones ringing, architect's discussing projects, and the constant pinging of email and skype chimes.
DISSOLVE TO:
INT. ARCHITECTURE OFFICE – CREATIVE DIRECTOR'S OFFICE –  11:00am
The phone RINGS.  Creative Director answers
CREATIVE DIRECTOR
EVstudio, Rich Muller
VOICE
(over phone)
Rich, Colton Steele calling.  I am thinking about building a house for myself and I wanted to come in today at 3:00 to see if we could generate some ideas for it.
CREATIVE DIRECTOR
Sure Mr. Steele, 3:00 would be fine.  See you then.
Thoughts stir within the CREATIVE DIRECTOR's mind.  COLTON STEELE is the city's biggest land developer and winning a commission for his personal residence would bring the young firm instant fame and notoriety.  It's obvious to the CREATIVE DIRECTOR that COLTON STEELE is laying down the gauntlet.
CREATIVE DIRECTOR
(to himself) So Mr. Steele, that's how it is…The novice architect may run and hide, the jaundiced architect will roll out the idea he had on the last house which he couldn't sell, but the worthy architect will show up armed only with a Pentel Sign Pen, a roll of trace and a willing mind.
INT – LARGE CONFERENCE ROOM – 3:00pm
COLTON STEELE is sitting alone in the large conference room, TAPPING on the table.   As the CREATIVE DIRECTOR walks in they shake hands.
CREATIVE DIRECTOR
Hi, Mr. Steele, what can we do for you?
COLTON STEELE
Well, I'm thinking I want a new house and something struck me about you last time we spoke.  You said that most architects use a shed roof as a crutch when they are asked for a modern house.  To me that means that you are not tied to the usual tropes that less imaginative architects employ.
CREATIVE DIRECTOR
Certainly not, Mr. Steele.  If you are trying to produce a work of art, would you be well served by copying what someone else did and the rest of the industry now copies?
COLTON STEELE
Right.  I have this great piece of land that I want you to look at.  It's in a traditional neighborhood, but I want my house to stand out.  Here is the site.
COLTON STEELE slides an 11×17 piece of paper across the table.  The CREATIVE DIRECTOR studies it for a moment and UNROLLS a length of trace paper and REMOVES the top from his trusty Pentel Sign Pen and starts SKETCHING.
COLTON STEELE
I want the house to make a statement ( the CREATIVE DIRECTOR responds with sketch A).  I don't want to see the garage (See B).  I change my mind, we can see the garage , but it should not be prominent and I want a porte-cochere so the world can see my great cars (see C).  If the garage is prominent it should be superlative (see D).  I want a pool (see E).  What would B look like from the side? (see F) Forget that, I want a pool that other people can see, but without placing it on the front lawn.
CREATIVE DIRECTOR
Elevate the pool up to the second floor, park below it, the pool will have a glass bottom or an infinity edge so that you can enjoy better views from the pool deck and still be able to see your prized car collection through the glass bottomed pool (see G and H).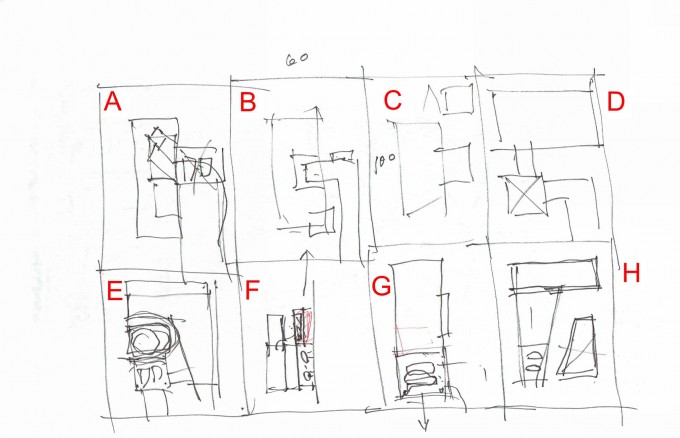 (In a matter of five minutes the floor plans are done)
COLTON STEELE
But what will it look like?
CREATIVE DIRECTOR
How about this?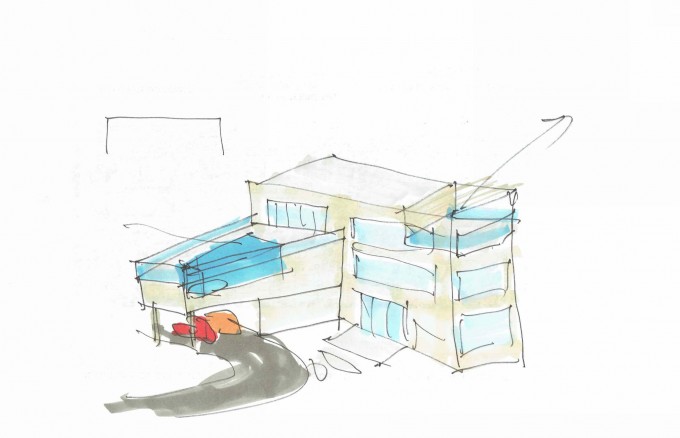 COLTON STEELE
Perfect, where do I sign?