The Keys on the Green is a historic landmark building owned by the City of Denver through the Parks and Recreation district that sees thousands of visitors over the course of a year. The original concentric octagonal structure built almost entirely out of logs was completed in 1925 and features a large four-sided masonry fireplace at it's center anchoring the building's structure with dining space on all sides. It underwent a large renovation and addition which houses it's golf pro shop and roof top deck in the 1980's and has seen minor improvements since.
In the spring of 2013 EVstudio was hired for an exterior log stair addition on the southern side to access the existing roof top deck and a deck railing replacement. While there was already stair access, the new stairs' location allows for better views of the golf course for patrons in the dining area, better use of the ground level patio for patrons outside by relocating the paths of circulation, as well as more direct access to and from the pro shop from the roof top deck. Below is a photo of the completed stair.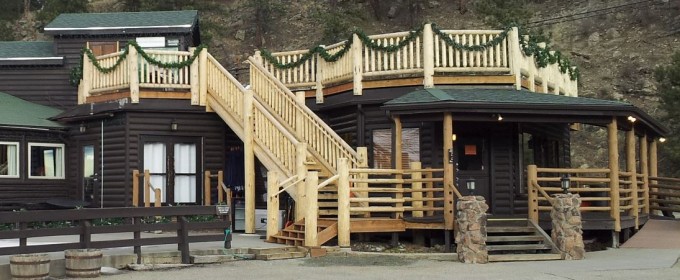 EVstudio has been hired again for an addition which features a second but covered stair addition on the north side as well as a roof to cover the roof top deck. The goals of the lease holders of the property are to expand the use of the roof top deck for cooler times of the spring and fall, while also enabling use during inclement weather and covered access directly from the interior of the building for patrons and employees alike. The project also includes an expansion of the upper deck by about 150 sq. ft. on the east side. The design goals include keeping to the character, materials, and roof forms of the existing building and because of the building's age, projected costs associated with the new construction and that it had received several additions over the years, there is also the design goal of limiting the impact of the new structure as it joins and marries to the existing. This is being accomplished by supporting the new roof as much as possible at the exterior of the building, thereby keeping work out from the interior of the building as much as possible. Fortunately the nature of the existing building and extents of the deck lend themselves fairly well with this strategy – and allows for a visual character that the existing structure calls for.