EVstudio is now capable of performing mid-roof inspections throughout the city and surrounding areas. Jefferson County, Wheat Ridge, Boulder, Golden, Littleton, Broomfield, Thornton, and Castle Rock are among the areas requiring an inspection and allowing third-party inspections.
A mid-roof inspection may be required when the pre-inspection identifies items that need to be completed, but will not be visible at the final. If A mid-roof inspection is required, the manufacturer's shingle packaging will need to be available and presented to the inspector. The manufacturer's shingles installation instructions will need to be on the shingle wrapper. Asphalt shingles must meet either ASTM D 7158 (old standard) or ASTM D 3161 (new standard). The roof must be completely dried in before calling for a mid-roof inspection. Additionally, 5-rows of shingles are to be installed for inspection purposes. During the inspection, we check for things such as nail patterns, ice and water shield, roof decking, weather seals, sheathing, felt, and shingle placement. We make sure during the inspection to meet all the requirements from the city and county code requirements.  All old roof covering shall be removed, drip edge flashing and valley flashing shall be installed, 75%-100% of felt underlayment should be installed, and 25%-75% of shingles should be installed per manufacturer's installation instructions. All inspections need to have a ladder set and tied off for the inspector. Inspection is performed in accordance with the IRC and IBC juristidictional codes, and the manufacturer's installation specifications.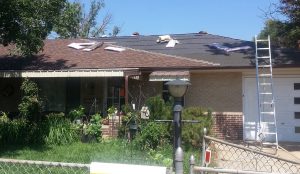 EVstudio inspectors will make sure your roof is up to code, assess what types of replacements or repairs are needed, and make sure you receive the proper documentation to verify the mid-roof inspection. With EVstudio, you get a company you can trust. Call our inspection team today to set up your Mid-Roof Inspection.
What does the inspector do during an inspection? The inspector will take time…
Looking at granule deterioration (including loose & missing shingles)
Examining flashings (including chimney & wall)
Checking for proper valley installation
Examining shingles looking for missing, curled, cracked & more
Confirming presence of drip edge and make sure properly installed
Checking for a history of wind/ice damage
To schedule your mid-roof inspection, contact our Inspection Team today.
303-670-7242 Extension 7 or Inspections@evstudio.com