The stabilization of a rehabilitation center was recently completed.  EVstudio was asked to observe the existing conditions and provide recommendations on how to stabilize the foundation that has been previously repaired before by other contractors and engineers but continued to move.    Previous repairs included pressure grouting, mud-jacking and helical piers.  The areas where the helical piers were placed remained stable while other areas continued to move.  The building has a shallow foundation bearing on soil that has continued to settle.
It was determined that the remaining foundation requires helical piers to stabilize and provide a uniform foundation system to prevent differential movement.  The helical piers act as steel stilts to support the foundation on solid soil below the unstable soil.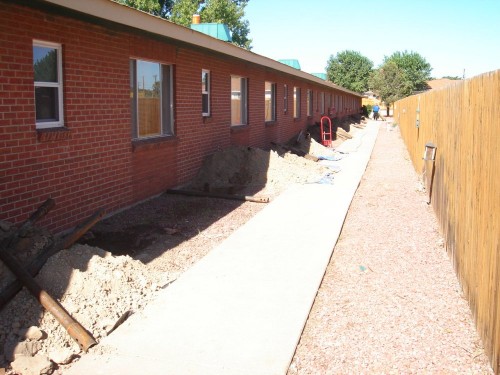 Due to the shape and size of the building 145 helical piers were needed fully stabilize the foundation.  The helical piers were installed by Pinnacle Structural Service.