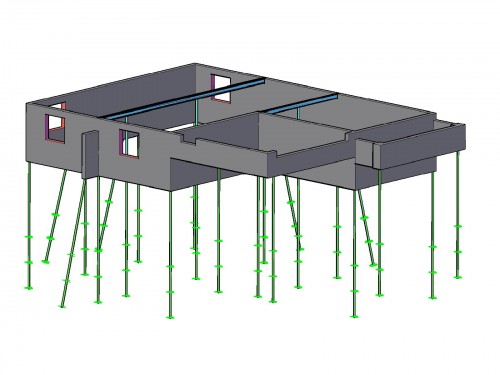 Helical piers are typically used when repairing failed shallow foundations.  The helical piers are a deep foundation system that can be placed alongside existing foundations with very little interference.
However, helical piers are also used for new construction as an alternative to typical straight shaft drilled piers.  EVstudio recently designed a new foundation using helical piers due to high water table and swelling soil.  With a small surface area on the steel shaft the helical pier is very stable is highly expansive soil.  We have also recently used helical piers for an addition to a home.  There was no soils report, but the house was on drilled piers.  A drill rig for new drilled piers could not gain access to the backyard, so helical piers installed using smaller machinery was recommended.
The real advantage helical piers have is their use for repairing moving foundations.  The entire existing structure can be underpinned using helical piers that are bolted to the bottom of the foundation.  Once the structure is underpinned the moving soil below the footing can be removed, establishing a void space separating the structure from any future movement.
PROS
Fast Installation
Can be Proof Tested
Negligible Uplift Pressure from Swelling Soil
High Tensile Resistance
Moderate to Small Equipment Needed
CONS
Specialized System
Concerns with Corrosion