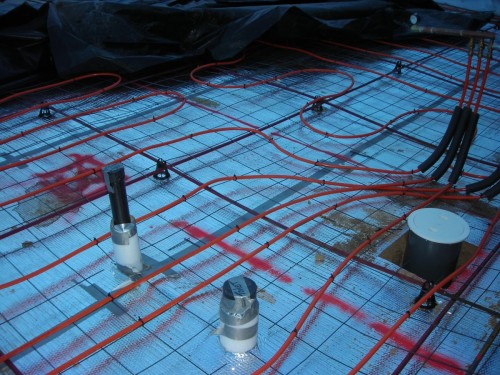 The structural department recently designed and observed the construction of a post tension slab-on-grade foundation that incorporated a hydronic radiant floor system.  Although there is nothing special about a hydronic radiant floor system in the basement floor, many builders and owners wonder if it can be done with a post tension slab.
In fact, with an engineered post tensioned slab cracks and isolated movement is reduced and allows for a radiant floor system to be used.  The slab should be at least 5" or more to allow sufficient depth to accommodate the tendons and the radiant system.
This project used a 6" uniform slab with no interior ribs and utilized the exterior basement walls to provide additional stiffness.  A hybrid PT foundation, but cost effective when compared to using a deep foundation system and elevated structural floor.  The foundation was first designed using spread footings, but then changed to a deep pier foundation during the open hole observation by the geotechnical engineer.  With that unexpected change in cost, EVstudio helped design a cost effective foundation for the client that would still maintain a shallow foundation type and provide the additional strength to resist the possible expansive material found.