Idaho's Best is one of the biggest "best of" business award programs in the state of Idaho. Each year, customers around the state nominate businesses and organizations that exemplify an outstanding customer experience. These awards are put on in order to recognize the best businesses in each region in Idaho, giving any Idaho resident the chance to nominate a business or organization for these awards. Through nominations, voting, and Google reviews, winners are selected for 4 regions within the state – Central Idaho, Eastern Idaho, Panhandle, and Treasure Valley. There is also a statewide winner that is announced at an awards ceremony. This year, EVstudio was announced as a nominee for best architect in the Treasure Valley.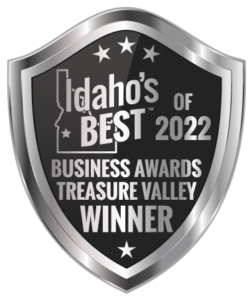 Once the nomination period ends, the businesses and organizations with the most nominations proceed to a voting round that is open to the public. Idaho residents are then able to vote for one nominee in each category. Voting is done through the Idaho's Best website and is secured through SMS verification to guarantee no double votes are cast. The businesses with the most votes in each category in their region then move on as finalists where the statewide winner is determined. At this stage, the best business winners have already been selected for each region. The finalists are scored based on reputation, which is determined by the previous 12 calendar months of Google reviews leading up to the awards nominations.
This year, 2,678 businesses and organizations were nominated for voting in 270 categories, with 4 winners (1 per region) in each category. Thanks to the votes of our clients and colleagues, EVstudio won Best Architect in the Treasure Valley region. EVstudio has placed in these awards, formerly placing as neUdesign Architecutre, consecutively the past 4 years (2019: 2nd Place Winner, 2020: Statewide winner and Best of Treasure Valley, 2021: Statewide winner and Best of Treasure Valley, 2022: Best of Treasure Valley).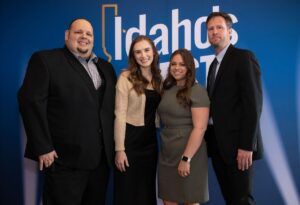 Four members of our team were able to attend this year's Idaho's Best Awards Banquet. This black tie banquet was the red carpet event of the year, literally. Our team members were able to walk the red carpet, strut their stuff, and pose for a photo together. Dinner and entertainment were provided with audience members being able to get on stage to perform their best stand-up comedy routines. The winners from each region in their respective categories were announced at the awards ceremony, with the statewide winner also being revealed in each category. Our EVstudio team was then able to go on stage and accept our award for Best Architect in the Treasure Valley.
Again, we recognize that this award is not possible without our amazing clients, team members, and colleagues. One of our biggest focuses at EVstudio is to serve our clients' needs with the highest commitment to excellence. It has been an honor to participate and receive these awards over the past few years. This award exemplifies our desire to provide an exceptional client experience and a work environment that celebrates the talents and efforts of our team.