This article will explain how to use Imaginary Lot Lines. When planning a site in which a single lot will house two buildings, take care in understanding the ramifications of the proximity of the two buildings to each other and it's fire separation and exterior wall opening percentages.
Take, for example, a multifamily project where you are designing an apartment building but also providing an open parking garage close to the apartment.  To determine the openings and projections of each building, an imaginary lot line needs to be instituted. The imaginary lot lines can be placed strategically in both the horizontal and vertical directions to maximize the fire separation distance for each building depending on their needs. In our example, the ground level of the open parking garage required a minimum opening percentage of greater than 25% and thus needed a minimum 10'-0" fire separation per Table 705.8 of the 2018 IBC. This left a < 10'-0" separation for the ground floor of the apartment thus restricting Level 1 to a maximum of 25% open. Since the imaginary lot line can be altered vertically, once it eclipsed the ceiling of the ground level for the garage, the lot line could be turned toward the garage thus terminating the separation distance requirement between the garage and remaining stories (L2-L5) of the apartment. This allows the upper levels of the apartment building to be free of opening percentage restrictions since the roof level of the parking garage was considered "surface level" parking and not an additional story.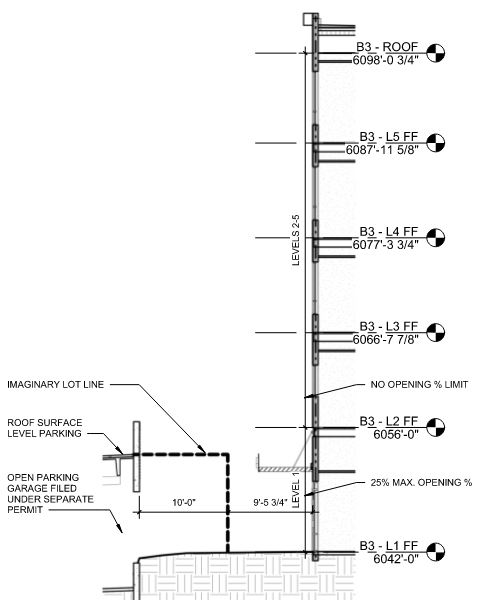 Remember to always confer with the Chief Building Official of your local Authority Having Jurisdiction as they may have different interpretations regarding the roof level parking.
To reference the 2018 IBC website, follow this link: https://codes.iccsafe.org/content/IBC2018
Check out some of our multifamily projects: https://evstudio.com/architecture/multifamily/