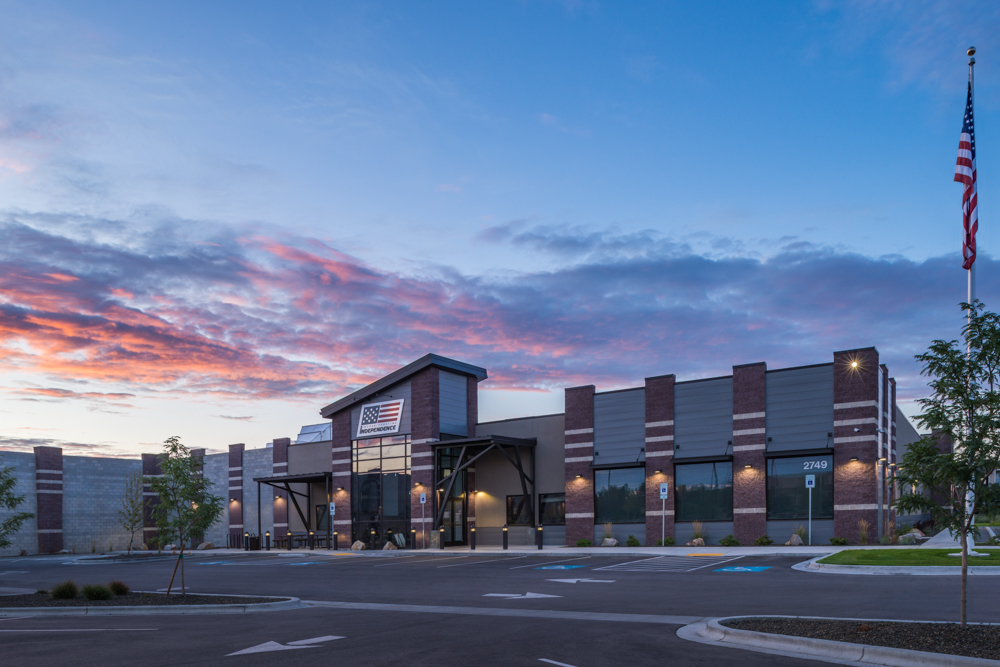 Architectural Design Hits the Bulls-Eye with Independence Indoor Shooting Range
When neUdesign Architecture (now EVstudio) got the contract for a new shooting range, it was clear who would be working on the project. Amanda Bidwell not only has a great eye for design, but also a passion for guns. Her unique expertise in architecture and special knowledge of the public safety and code requirements for an indoor shooting range was a sure combination for a bullseye! The result is the Independence Shooting Range in Meridian, Idaho.
Among the many outstanding features at this state-of-the-art firing facility is the one hundred-yard indoor shooting range–the only one in the Northwest. Since opening its doors in 2017, the range continues to draw gun enthusiasts from across the country who are eager to put their shooting skills to the test. Let's take a look at some of the other features that make this project special.
One Building, Three Ranges
This 25,000 square foot commercial indoor shooting range houses three-gun ranges under one roof.
First is the 100-yd rifle range with four lanes.
The second is a tactical range with eight lanes.
The third is a series of eight lanes with unique tapered lanes.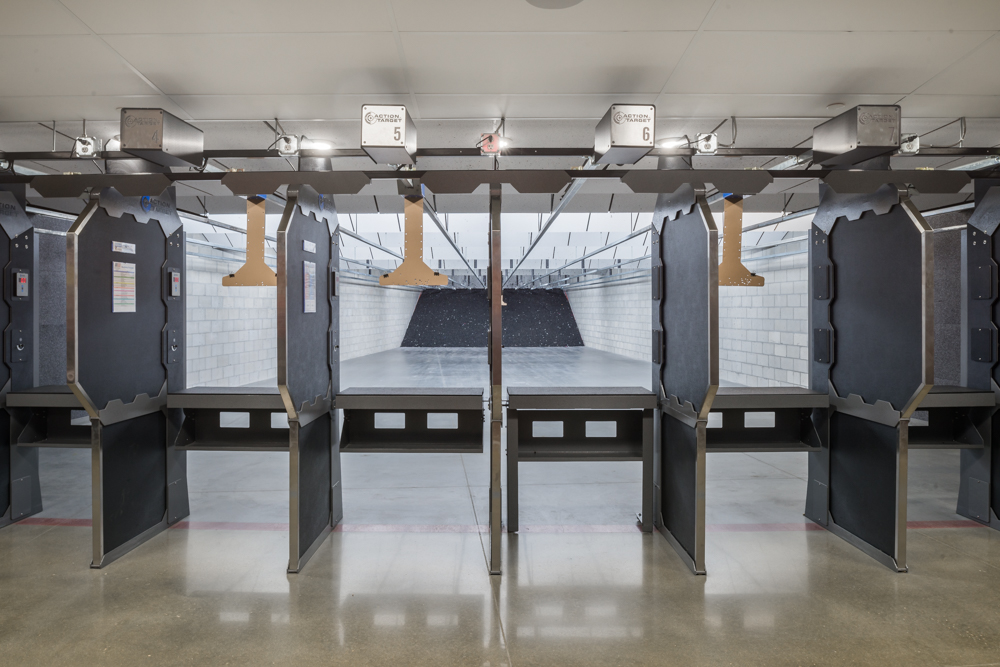 Tapered Lane Design 
According to Amanda, by working with Shoot Indoors, LLC, their patented tapered lane design was used to help optimize space. This gives the shooter all the room they need at the top of the lane for different stances and storage and then gets more narrow at the backstop where less space is needed at the target. "Lane tapering optimizes space and efficiency within the facility, which is one of the main reasons why a trapezoid architectural design was used."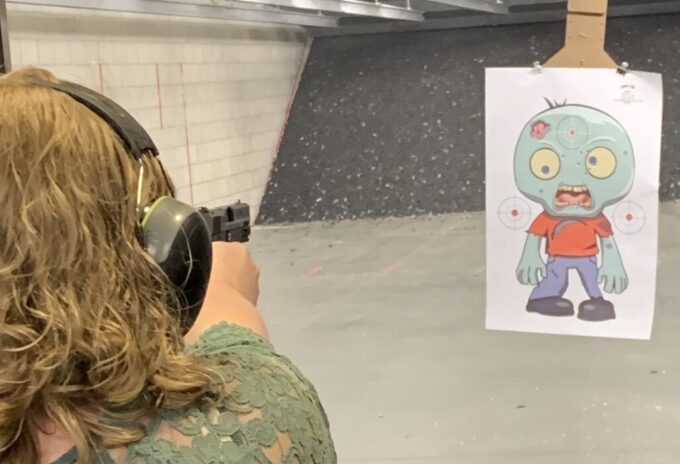 Other Key Features
Full-size adjustable bench seating for right or left-handed shooters
Cameras at 100 yards to see your target
Lead sleds, sandbags, and prone mats are available
Advanced, programmable, turning target features
Different shooting activities and training scenarios
Private stalls
Rated up to .50 Cal
Access to the 25 Yd ranges
Wheelchair Accessible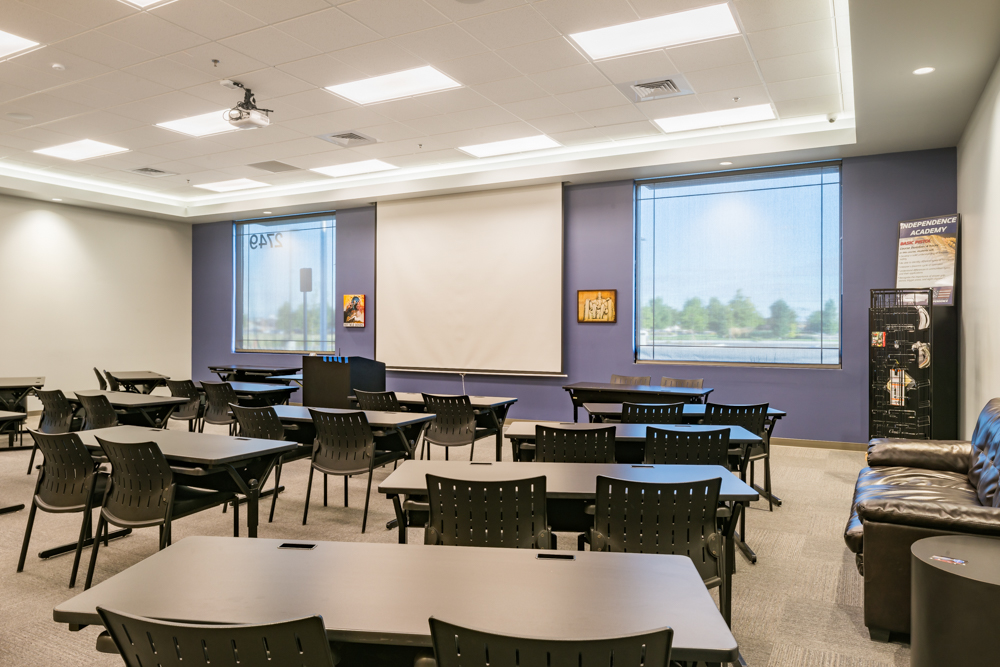 Gun Retailer and Firearm Safety Classes
In addition to the lanes, the building also features a gun and ammunition retail shop and office space. There are also classrooms for gun safety courses and other gun-training classes. Gunsmith services are available on-site too.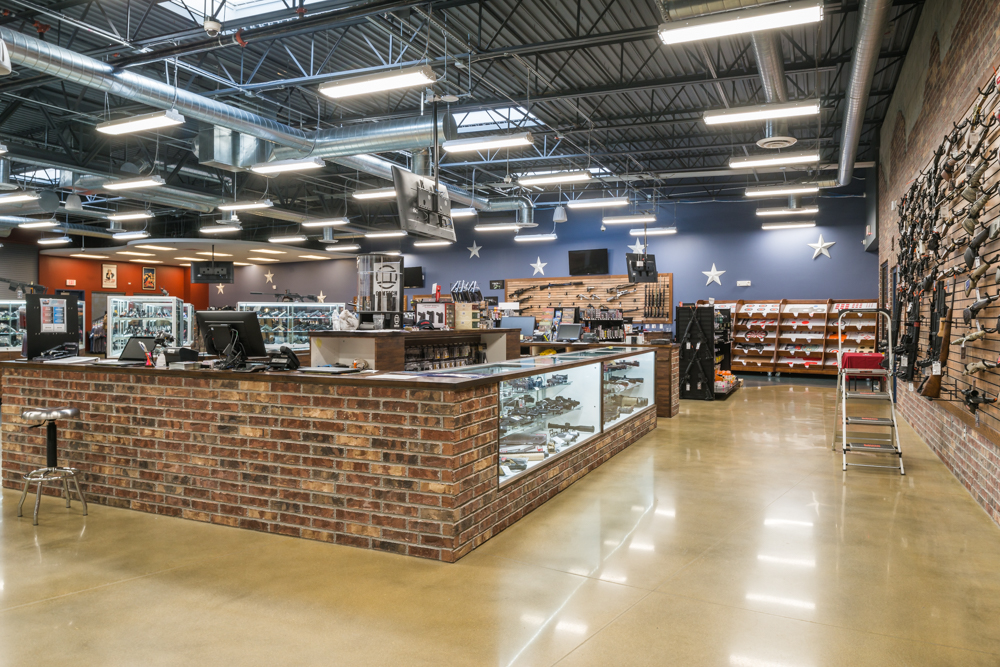 Design Considerations- A place for everyone. 
The building is designed to be inviting so everyone can feel welcome coming in to learn about gun safety and the safe use of firearms. An American decor theme can be found throughout the building as red, white, and blue have been incorporated into many of the features. Other interior elements include the warm use of rustic brick and stained wood.
In the range itself, you will not be distracted by the utilitarian space with long expansive walls and limited windows. Every feature in the range starts with an emphasis on safety. But that did not stifle Amanda's creativity in other aspects of the building.
Having logged many hours at other shooting ranges over the years, she really wanted this one to be special inside and out.  This can be seen with her clever use of various wall thicknesses to create undulations and give the facility dimension and height. She also designed the exterior awnings to be symbolic of a gun as well as incorporating gun-like features onto the front covered patio.
The result? Well, as you can see by the pictures, this is not only a wonderful space to spend some time but also a state-of-the-art premium shooting facility.
Expertise
Stay tuned, we have more indoor ranges on the drawing boards! In fact, neUdesign's team (now EVstudio) is working on shooting ranges in Texas, Mississippi, and Colorado.
Can we design your dream range? If you or someone you know is interested in a project like this our team can help determine what services will benefit you most when it comes to the design of an indoor shooting range. We can help you make your vision a reality through design, engineering, site planning, codes, safety inspection, and construction.