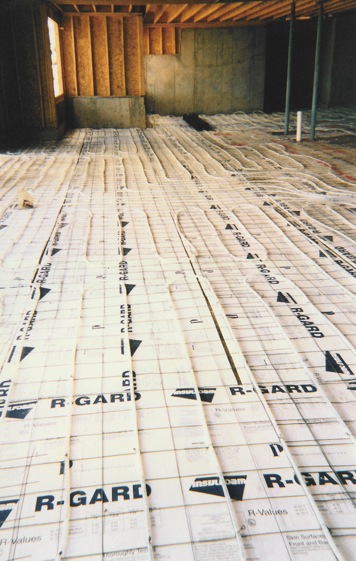 The builder for the Haley Residence we designed in Evergreen is using Insulfoam R-Tech for the under-slab insulation.  Insulfoam R-Tech is a high-performance, block-molded expanded polystyrene (EPS) rigid insulation product for under-slab applications.   It is an ideal solution for projects that incorporate radiant-heat flooring systems, as the picture above shows.  The material is extremely lightweight, has a high moisture resistance and is 100% recyclable.  It contains no ozone-depleting HCFCs or formaldehyde and can be used toward LEED credit requirements.
Insulfoam's compressive strengths range from 1,140 to 8,460 pounds per square foot, and is currently the industry's leading product in geofoam applications to construct highways, interstate on-ramps, and airport runways.  It also offers an extremely stable R-value and is very versatile.  Insulfoam products are available in a wide variety of sizes, shapes and densities which helps minimize unwanted labor and material costs.  It typically comes in 4'x8' sheets with thicknesses from 3/8" to 5" in 1/8" increments.  It also has an optional InsulSnap feature which allows the user to cleanly break the sheet into any desired width.
Insulfoam R-Tech has also been used successfully for numerous commercial and industrial applications as well and is not only used for under-slab insulation, but also basement walls, crawl spaces, interior walls, wall sheathing, and siding & stucco underlayment.