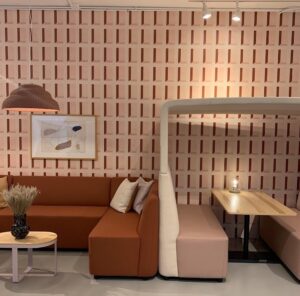 The profession of interior design dates back to just over 100 years old and has evolved into what we are familiar with today. The profession of interior design came with the rise of the middle-class society during the industrial revolution. Interior designers aided architects in their designs during Industrial Revolution, starting the movement to making the best use of space along with attention to user friendly design. This was just the beginning of the leaps and bounds the profession would make advocating for all-inclusive designs and concepts that we see today. Interior design is more than just selecting furnishings and colors, it's about creating spaces for all.
Creating spaces for all has been the leading driver for the largest interior design trade show since 1969. NeoCon is north Americas largest design exposition and conference for new design innovation and solutions. NeoCon is held at the Merchandise Mart in Chicago, gathering over 700 professional exhibitors looking to showcase different interior projects and design solutions to aid in the interior environment that we interact with daily. This helps provide tools for designers to create environments where humans feel comfortable, improving productivity, mood, and metal health. With most of our time spent indoors Interior designers have the ability to design spaces to evoke a positive or negative emotional response in people and their environments. Lighting, colors, space planning, plan configuration, scale, proportion, acoustics, and materials affect the individuals who visit the space. With this information Neocon provides a 'one stop shop' so to speak, with the industries newest leading drivers to always be improving our interior environment and how humans interact in spaces.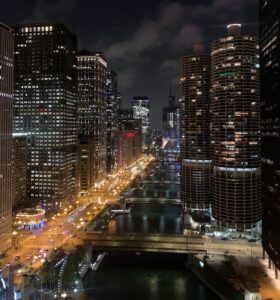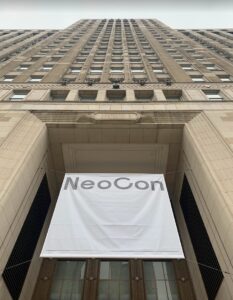 NeoCon has provided a platform for ideas that have transformed the way we live and work for the past 50 years, showcasing technological advances and cultural change, encouraging the evolution of design concepts. In addition to exhibits, NeoCon provides keynote speakers who motivate designers by introducing information on various topics to encouraging them to think about a topic in a way they may have not before.
NeoCon promotes future design and how the current design generation can continue to press forward in the profession continuing to aid in design advancements. Every year NeoCon brings together designers, architects, producers, manufacturers, educators, students, and end users under one roof; to share knowledge and ideas. Together we can unleash new possibilities and accomplishments in the industry.
To keep learning about interior design follow this link.