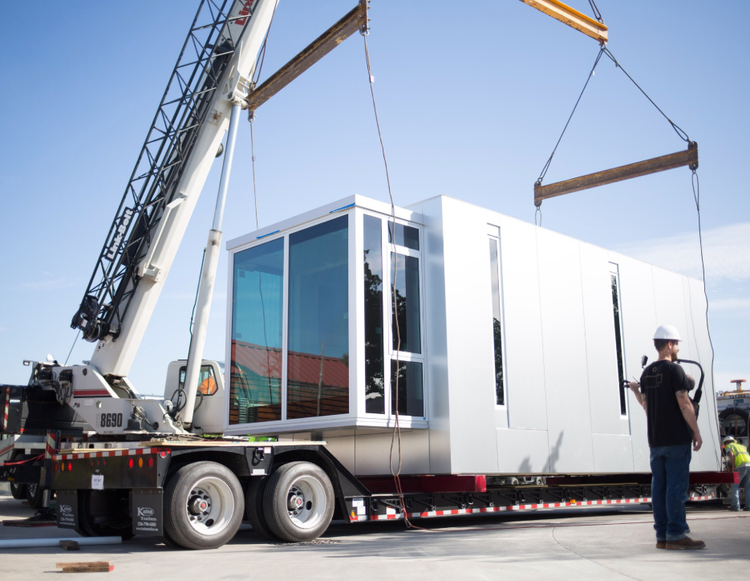 Kasita in Austin, Texas is blazing a new trail for the independent traveler in the hospitality industry come 2020. This boutique hospitality company is creating a buzz in the modular building industry as they get ready to launch their first modular hotel concept. Yes, travelers get ready to experience hospitality with a twist! Modern design and a "no-host" check-in experience; just head straight for your room. Once you get past the front door you will find many of the comforts of home while staying in your very own modular hotel pod.
For this project, neUdesign Architecture (now EVstudio) is pleased to have partnered with Kasita to help them design and coordinate the Mechanical Electrical Plumbing (MEP) for its flagship hotel in Austin. Once built, Kasita plans to replicate this model and roll out additional hotel locations relatively quickly across the United States using a similar design model as the company grows.
Kasita's hotel concept moves away from the traditional single building big-box hotel style with individual guest rooms in one building to a more modern modular hotel concept with individual guest pods creating a hotel compound of sorts. Guests will be welcome to stay in the individual, detached modular units and can come and go freely without ever having to interact with any hotel staff. The guest experience is independently operated by the traveler and enhanced through the use of technology found within each unit. Guests can make their reservations and check-in and out of the hotel electronically eliminating the need for front desk staff and hotel keys, etc. Here are just a few of the other features that can be found in this hotel.
Modular Hotel Design
The hotel's modern, modular design concept is comprised of 19 individual hotel pods approximately 300 square feet in size. Ease of access and comfort is key for guests at this hotel. Each unit includes a bed, sitting area, small kitchenette, fridge, sink, microwave, and bathroom. Also, there is a 1,200 square foot two-story community building on site. On the first floor, the building features a common area that is accessible to guests that includes a larger size fridge, sink, dishwasher, and a washer and dryer. Also, Snacks and beverages are offered, and guests can enjoy the outdoor seating area. The second floor is home to the host's corridors, which includes a 650 square foot one bedroom, one bath apartment unit.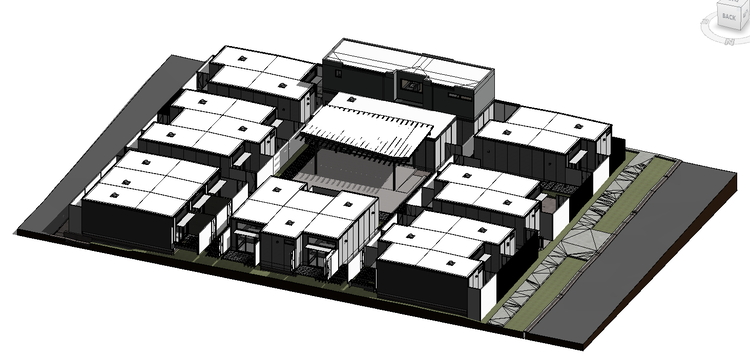 Partnerships
Launching a new modular hotel project like this in a relatively short amount of time is possible with the help of many great partners. Design lead Spencer Seewald with neUdesign (now EVstudio) provided the expertise and details for the Mechanical and Electrical Plumbing features of the clustered modular hotel pods on the property. Each unit is designed to include a water heater, HVAC unit, and Energy Recovery Ventilator (ERV) that helps circulate out stale indoor air with new fresh air coming in from the outside. Eco-friendly details were included in the units as well as high-end plumbing and electrical features. Customizable lighting systems were added for convenience. The design was a team effort and included Value Engineering Inc. and Atlas Engineering who also worked on the project.
Modular Home Concept
Kasita's modular hotel concept is sure to create a unique and modern hospitality experience within the industry. This boutique-style hotel will be a great choice for the independent tech-savvy traveler looking to experience something new. Since Kasita wanted to scale its operations relatively quickly within the niche of the modular hotel industry, an off-site build was particularly attractive versus traditional on-site construction.
Partnering with the right team was critical, which is why Kasita turned to neUdesign who brought with them their years of expertise within the modular industry. neUdesign's (now EVstudio) MEP lead Seewald says, "The great thing about Kasita's design model is that it can be easily adapted and used in other states with just a few tweaks." Modular design provides greater flexibility on a project possibly saving time and costs without sacrificing quality in bringing a great product quickly to market. This is a win-win within the hospitality industry.

If you are a traveler heading to Austin Texas be sure to visit Kasita.com for more information on when this hotel will be available for guests and learn about the other locations where they plan to build next. In the meantime, you can always book your stay at the Kimber Modern, Kasita's sister hotel at Kimbermodern.com.