The US Transportation Secretary announced on October 16, 2009 that the 40-mile Lariat Loop Scenic and Historic Byway connecting Golden, Morrison and Evergreen is now designated as a National Scenic and Historic Byway.
EVstudio had the honor of working on the design and site planning for the plaza and interpretive historical marker in downtown Evergreen. The project, completed in 2008, was an effort spearheaded by Joe Tempel with the Lariat Loop and included the Federal Highway Administration and supporters Jeff and Susan Bradley.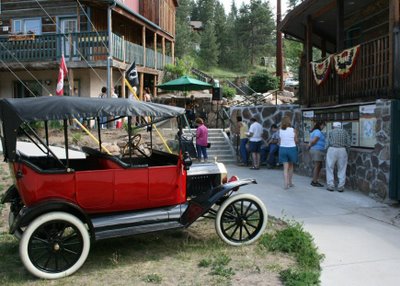 The project took an area primarily used as little more than a transitional outdoor space between two commercial buildings, and widened it to create four large terraces with wide stairs connecting each. The terraces are bounded with stone retaining walls that were detailed with materials and construction that is historically appropriate for the area. These terraces now link the main street environment with the interpretive marker, the large parking lot above, and more businesses in a pedestrian friendly and pleasing way. In fact, the terraces have since been used to serve as musical stages for downtown events as well as hosting farmer's markets and other outdoor events.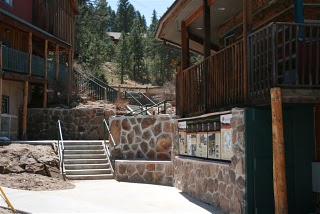 Check out The Lariat Loop Scenic and Historic Byway website to learn more about this great tour. It was our great pleasure to work on a project that has such an important connection with our local community and is now recognized as a national byway. If you're ever passing through Evergreen, come by and see it!