Rocky Mountain Green is soon coming back to Denver. I will be co-presenting at the conference on April 13, 2012 at the Colorado Convention Center in Downtown Denver with the topic "Implementing LEED-ND for Existing Neighborhoods."  I hope to see you there!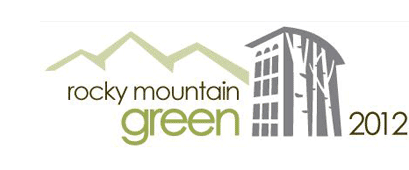 USGBC Colorado Press Release:
Rocky Mountain Green 2012: This is What Change Looks Like!

FOR IMMEDIATE RELEASE: Denver, CO (January 23, 2012) – U.S. Green Building Council Colorado will host its 6th annual Rocky Mountain Green conference April 12–13, 2012 at Embassy Suites Downtown Denver. The theme this year will highlight change —at the local and national level.

"The conference is designed to help attendees grow their business, network with a targeted audience, and learn about cutting edge green building strategies," said Patti Mason, USGBC Colorado Director of Advocacy. "We plan to top all that off with some fun as we celebrate Colorado's recent accomplishment as the number one state for LEED certified buildings per capita."

Rocky Mountain Green 2012 is USGBC Colorado's annual green building conference. Twenty-four education sessions, five building tours, exciting keynote addresses, and networking opportunities draw industry leaders from across the region. Rocky Mountain Green provides professionals in the built environment the opportunity to learn from experts and keep abreast of the latest changes and happenings in green building.

The opening plenary, "Harmonizing Life, Not Compromising—Regenerating Ecosystems and the Human Spirit," will be presented by Bill Reed, President of Integrative Design Collaborative.

For more information on Rocky Mountain Green 2012, or to register for the event, please visit www.rockymountaingreen.com.

Contact Patti Mason at U.S. Green Building Council Colorado if you would like to obtain a press pass to the 2012 Rocky Mountain Green conference at patti@usgbccolorado.org or by phone at 303-292-6183.

Date: April 12–13, 2012

Time: all day event Location: Embassy Suites, Colorado Convention Center, Downtown Denver More information: rockymountaingreen.com

Press Passes: Email Patti Mason at patti@usgbccolorado.org or call 303-292-6183.