The Denver Zoning Code update is an exceptionally important issue for both the citizens of Denver and the groups that design, develop, sell and manage real estate in Denver. It will rezone the majority of property in the the city and change how those properties can be developed. In many cases the new property regulations will be more restrictive than the existing zoning.
The American Institute of Architect Denver Chapter (AIA), the Home Builders Association of Metro Denver (HBA), the Denver Board of Realtors and the Apartment Association of Metro Denver have spent a fair amount of time testing the code. As the testing was moving forward their coalition found several items that they felt needed to be addressed. This week they released a letter to address these issues and encourage the city to:
"Establish a formal system for comment submittal, making responses available and identifying any corresponding changes in the code.
When appropriate, responses to comments or updates to the code should be made public at www.newcodedenver.org, providing broader access and transparency to the process as well as avoiding duplication in future modeling.
Publish all modeling carried out by CPD staff for public review.
Provide support for the assertion that non‐conformity will not increase.
Provide support for the assertion that product and design flexibility will not be diminished.
Provide a distinct contextual approach for new‐build developments in Greenfields .
Evaluate proposed design standards, such as increased setbacks or height limitations, for their impact on the ability to deliver housing that meets market demands (e.g. a third and fourth bedroom, walk‐in closets, reasonably sized bathrooms, appropriate ceiling heights, etc.)
Evaluate the code for the potential unintended consequences of reduced buildable area on single‐family zone lots, form‐based design standard like a mandatory building step‐back, or reductions in allowable density.
Work with the undersigned in a collaborative undertaking of modeling/testing to further identify and resolve issues in the draft code."
The full letter: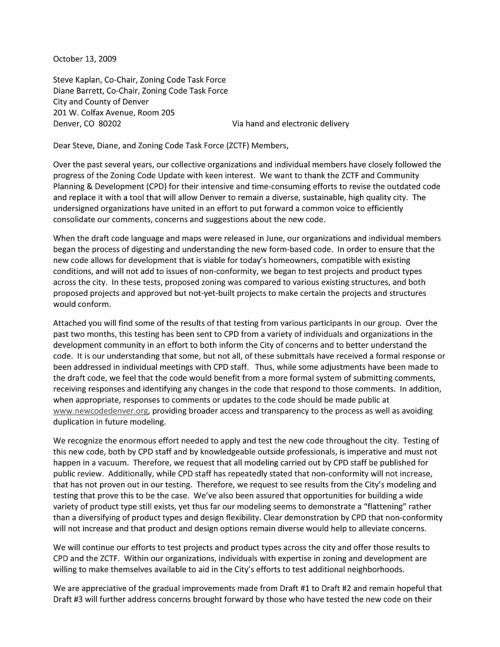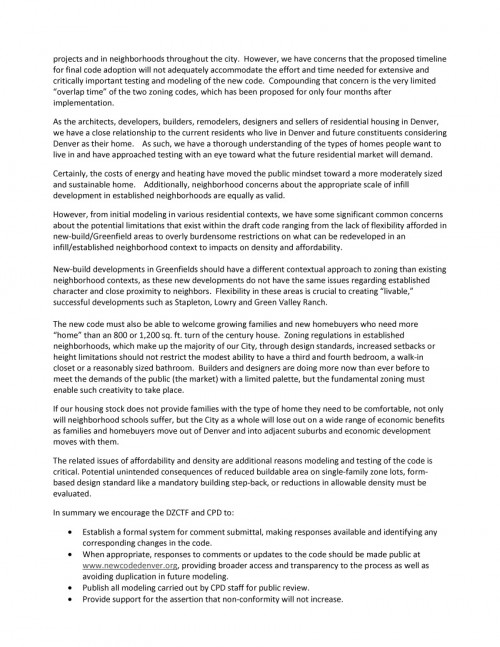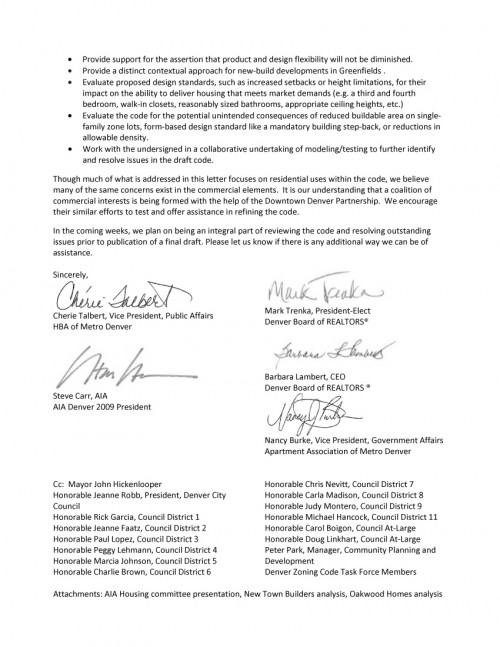 Several other groups including the Urban Land Institute (ULI) and the Downtown Denver Partnership are also studying the effects of the Denver Zoning Code Update on potential development.