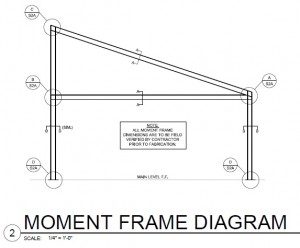 A shear wall design is a part of our structural construction documentation. It is common in residential or light commercial projects that this design utilizes the sheathing on the exterior walls.
Sometimes the sheathing alone isn't enough and a portion of the shear wall design may incorporate a steel moment frame to meet shear requirements. In this example, the client had expressed interest in modern architectural forms and materials and we chose to apply this moment frame as both a structural element and as an aesthetic treatment to provide a more modern flare. This approach is an example of how EVstudio is always trying to economize a design to meet structural requirements and also provide an aesthetic appeal simultaneously when feasible.
The image below shows the connection of the horizontal steel c-channel with the left-hand side vertical c-channel.