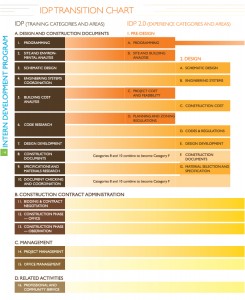 On January 1st, 2010, NCARB implemented the IDP 2.0-Phase 2, which converted the experience requirements from units to hours, changed the definition of 'Direct Supervision', and restructured the required Training Categories.
The current category 'Design and Construction Documents' has been redefined into Category 1: 'Pre-Design' and Category 2: 'Design'.  The Pre-Design category includes Programming and Site & Building Analysis, where the Design category includes Schematic Design, Engineering Systems, Construction Cost, Codes & Regulations, Design Development, Construction Documents, and Material Selection & Specification.  Note that the new Construction Documents sub-category now includes Document Checking & Coordination as well.  Category 3 is now 'Project Management' which includes Bidding Contract Negotiation, Construction Administration, Construction Phase: Observation, and General Project Operation.  Category 4, 'Practice Management' now includes Business Operations, and Leadership and Service.
Phase 3 of IDP 2.0 will take into effect January 1st, 2011.  The highlights of Phase 3 will be the condensing of the current seven work settings into three experience settings, and the replacement of the core competencies with a variety of tasks that interns must be able to perform prior to licensure.
In order to simplify the acceptable IDP experience settings, Phase 3 condensed them into (A): Architectural Practice; (O): Other Work Settings; and (S): Supplemental Experience.   These settings encompass all of the current acceptable work settings (A through FF).  For example, the current work setting A, (Direct supervision of an architect while working at a firm) would still be considered experience setting A (Architectural Practice).  Experience earned under the current work setting D, (Direct supervision of a licensed engineer) would continue to be acceptable experience under O (Other Work Settings).