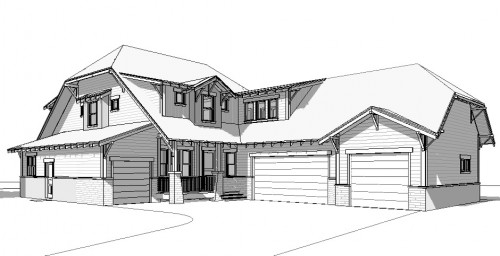 EVstudio has completed the design for a new craftsman style home in Denver.  Situated on a large L-shaped urban lot we took advantage of the tight and somewhat secluded entrance off of the cul-de-sac to create a dramatic sequence culminating in the formal motor court.  One of the principal challenges was keeping easy access to the 3 garage doors for 4 cars without letting those doors and spaces completely dominate the facade.  Our solution was to include the second floor in the primary roof volume (a classic craftsman solution) and extend the second floor 4th bedroom over the western garage.  This keeps most of the visual mass with the house and clearly establishes the garage volume as secondary even though the garages dominate the plan at the entrance in terms of linear feet.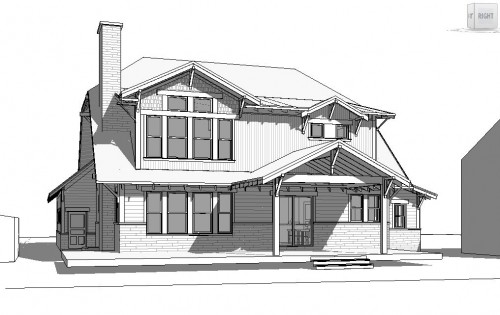 On the rear of the house, simple organized gables create a strong composition.  Deep overhangs and real functioning braces which support exposed rafter tails support the craftsman feel.  With the home pushed as close to the lot entrance as possible we maximized the area of the backyard, giving the client's two young boys plenty of room to run and play.
More updates as construction begins!