Have you ever wondered what the various phases of new construction are? There are many different phases of the construction process, and this blog will illustrate that for a new home build. The featured housing development is from Oakwood Homes at Green Valley Ranch.
Phase 1: Primary Stages
In the primary stages of a housing development, the builder must perform a multitude of infrastructure related tasks, such as installing underground electricity, water lines, and sewer lines, as well as creating the actual layout of the neighborhood through paving streets (pictured below) to pouring the concrete for the sidewalks.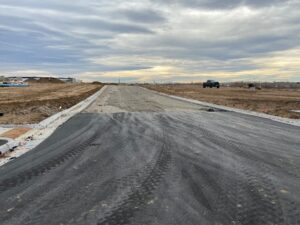 Phase 2: Building Process
Once the infrastructure is in place, the builder begins the home building process. Pictured below are two types of excavations. The basement level excavation on the left is dug down to a prescribed depth using an earth mover so a house with a basement can be built in its footprint. The raised slab excavation on the right is for a home with no basement or crawlspace.
Once the excavations are completed, the foundation crew gets to work putting the foundation together. First, they build and pour the footing of the house. Then they create the walls using wall forms and rebar as reinforcement in the concrete, a finished basement wall can be seen below.
When foundation is complete, the framers arrive and being framing the house. Below you can see a partially framed home where no roof has been added yet and next to that is a completed framed home.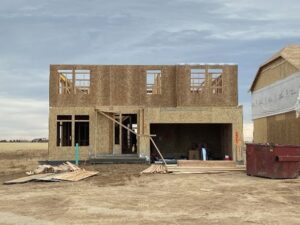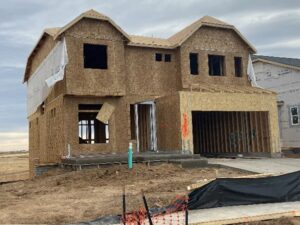 Once the house has been framed, and before the siding and/or brick veneer is added to the exterior, a contractor will wrap the house with a plastic fabric that provides a water-resistant barrier.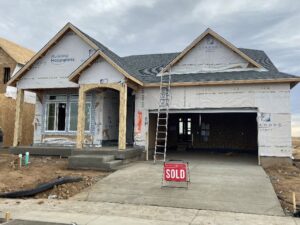 Once the house has been fully wrapped, the siding and/or brick veneer is installed on the exterior of the home.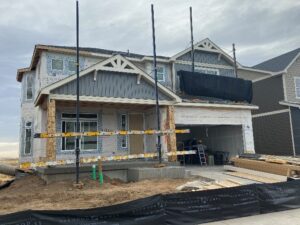 Below is a home with the siding and brick veneer installation completed. You can also see in the photo that the driveway for this home has been freshly poured.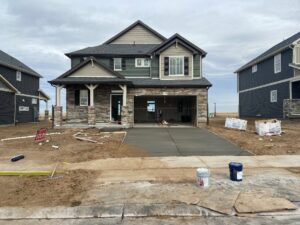 Phase 3: Landscaping
Once a full street of homes has been fully completed, the builder will then add landscaping and fencing around the houses and neighborhood for safety and aesthetics.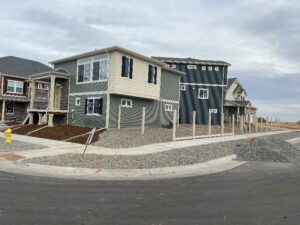 As you can see, there are many elements that go into a housing development, from land and infrastructure, to concrete foundations and framing, and finally the finishing touches on the homes and the neighborhood. To learn more about our field inspections team and tips they have for new construction check out the articles below.
EVstudio is involved in almost every step along the way, architecturally and structurally, our expertise can be seen in any phase of the new construction process. If you have a project and are looking for architects and structural engineers who have a wealth of experience and a myriad of projects under their belt, EVstudio is the way to go. Contact us today!