The Pinewood Townhomes project in Harker Heights, Texas was recently featured in the Killeen Daily Herald.  Go to http://kdhnews.com/business/local/townhome-trend/article_e5bf0e08-77fc-11e2-ac7b-001a4bcf6878.html to read the full article.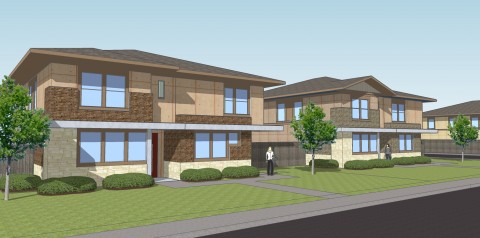 The Pinewood Townhomes are a 16 unit development and the first of their kind in the area.  Townhomes are a familiar building type in urban areas, but this project is the first townhome development in the Killeen/Harker Heights area.  Throughout the development we have worked with the city to define and clarify the untested townhome zoning and bring this new housing type to the area.  The Killeen/Harker Heights housing market is mostly made up of duplexes and other rental properties on the one hand, and large lot single family homes on the other.  This project is aimed to fill the gap between the two,  offering a more affordable route to home ownership with the benefits of a central location and low maintenance.
In addition to being a new project type for the area, this project breaks new ground for the area with the design of the units.  For this project our client wanted a modern design that would stand out in this area.  With this in mind we developed a compact and efficient 1590 sq-ft  3 bedroom 2.5 bath floor plan featuring an open floor plan on the ground floor with natural light throughout.  The exterior of the building incorporates modern design features and detailing  while retaining many standard construction details and materials.  The end result is high quality design and features at an affordable price point.
The first four units are currently under construction with the model home and the first units to be finished in March.  In the meantime we are continuing to develop site plans and site-specific variations of the design for the rest of the development.