In a partnership with the Colorado chapters of the United States Green Building Council (USGBC) and the Congress for the New Urbanism (CNU), I recently identified developed neighborhoods that may qualify for LEED-Neighborhood Development (LEED-ND).  LEED is an acronym for Leadership in Energy & Environmental Design with multiple rating systems including the most popular New Construction (or LEED-NC).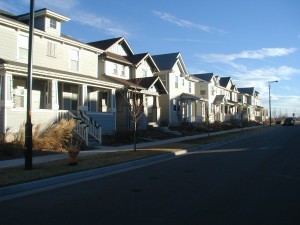 The following are Colorado developments that are pilot projects for LEED-ND:
I have assembled several other new urban neighborhoods in the State of Colorado, which can also be found in CNU Colorado published book Colorado Urbanizing, that I feel have the potential to meet the requirements of LEED-ND.  Please send comments, etc. if you feel that I have missed a neighborhood that would qualify as this is meant to be a working list.
Project Size:  103 Acres
Status:  Phase 1 or More Completed
Current Walk Score:  91/100
Website:  Belmar
Bradburn Village, Westminster
Project Size:  125 Acres
Status:  Completed in 2009
Current Walk Score:  60/100
Website:  Bradburn
Casa Verde Commons, Colorado Springs
Project Size:  4 Acres
Status:  Completed in 2002
Current Walk Score:  40/100
Website:  Casa_Verde
Clayton Lane, Denver
Project Size:  6 Acres
Status:  Completed in 2005
Current Walk Score:  98/100
Website:  Clayton_Lane
Geos Neighborhood, Arvada
Project Size:  25 Acres
Status:  Planned/ Entitled
Current Walk Score:  n/a
Website:  Geos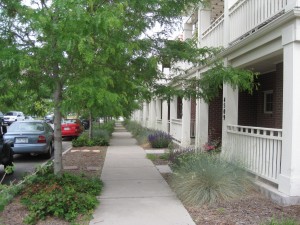 Highlands Garden Village, Denver
Project Size:  27 Acres
Status:  Completed in 2007
Current Walk Score:  86/100
Website:  HGV
Holiday Neighborhood, Boulder
Project Size:  27 Acres
Status:  Completed
Current Walk Score:  68/100
Website:  Holiday
Iris Hollow, Boulder
Project Size:  7 Acres
Status:  Completed in 1999
Current Walk Score:  77/100
Website:  n/a
Fitzsimons Village, Denver
Project Size:  31 Acres
Status:  Planned/ Entitled
Current Walk Score:  65/100
Website:  Fitzsimons
Lowell Neighborhood, Colorado Springs
Project Size:  58 Acres
Status:  Phase 1 or More Completed
Current Walk Score:  82/100
Website:  Lowell
Pitchfork, Crested Butte
Project Size:  10 Acres
Status:  Phase 1 or More Completed
Current Walk Score:  82/100
Website:  Pitchfork
Prospect New Town, Longmont
Project Size:  80 Acres
Status:  Phase 1 or More Completed
Current Walk Score:  54/100
Website:  Prospect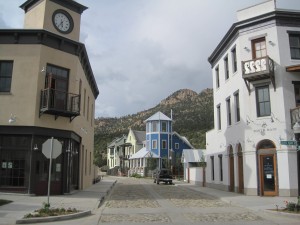 South Main, Buena Vista
Project Size:  40 Acres
Status:  Phase 1 or More Completed
Current Walk Score:  52/100
Website:  South_Main
Three Springs, Durango
Project Size:  620 Acres
Status:  Phase 1 or More Completed
Current Walk Score:  97/100
Website:  Three_Springs
Wellington Neighborhood, Breckenridge
Project Size:  62 Acres
Status:  Phase 1 or More Completed
Current Walk Score:   65/100
Website:  Wellington