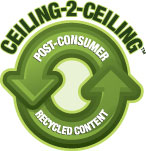 Armstrong's Ceiling-2-Ceiling program allows you to recycle used ceiling tiles from your remodel or demolition project. You pull the tile out and put it on a pallet, then Armstrong takes it from you and recycles it as post-consumer content for their manufacturing process.
The Ultima, Dune and Cirrus lay-in ceiling tiles are all available with post-consumer content if you're looking to make your own loop when you replace what you sent of for recycling. You may also be able to use it to pursue LEED points. With the tiles that we are replacing in our office, we're getting tiles with up to 53% recycled content (18% post-consumer).
There is a significant amount of information on this program on their website and this PDF.  There are obviously some tiles that don't work (like asbestos) but a great deal of tile is eligible.