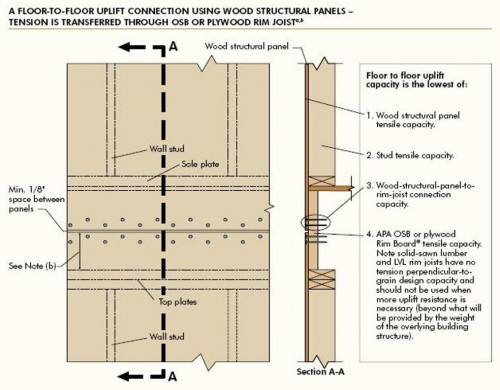 Tired of all the holdown straps?
You can eliminate many of the metal holdown straps from the upper floor wall to the main floor wall by modifying your OSB wall sheathing layout.  When the OSB wall sheathing is continuous over the floor framing section or lapped with the rim board uplift loads can be transferred.
If you are utilizing prefabricated wall panels you can still have the OSB extend to the middle of the rim board.  Just have the OSB extend below/above the plates as build in the shop.  The only caution is, extra care is needed to prevent the overhanging OSB sheathing from being damaged during shipping.
This concept can also be utilized at the foundation sill plate to help reduce uplift loads that would otherwise require embedded straps such as STHD10RJs.  In that situation, cross grain bending is not desired on the sill plate as the load transfers to the anchor bolts.  The cross grain bending can be removed from the equation using mud sill anchors (MAS) attached to the exterior face of the OSB sheathing in lieu of anchor bolts.  A great solution when utilizing prefabricated walls.
Typically, when building with wood you want many smaller fasteners that distribute the load out evenly rather than a few large fasteners concentrating the load.
EVstudio | Architecture and Engineering | Denver and Evergreen