We are doing an exciting renovation in the Conifer area that has a really unique front entry. The entrance evolved out a requirement to keep snow from piling up in front of the front entry and also blocking driveway access to the garage. After a number of sketches and conversations, we settled on creating a butterfly roof. A very nice entry feature with a porch was designed in the original set of drawings but as the project progressed we continued look at how the butterfly roof at the entry would be supported. Through conversation, we found that the clients decided they wouldn't spend much time at the front porch because of their spectacular view from the back of the house to the south.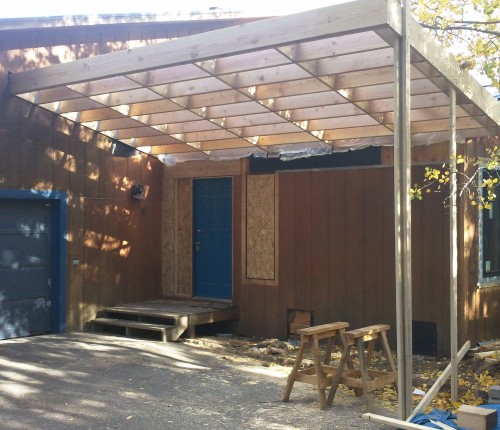 We designed a system where the columns for this structure angled back to the home at approximately 30 degrees from vertical. Based on typical construction methods and brief investigation of this portion of the house last winter, we determined we could connect the base of the columns to the house with brackets connected to the foundation wall.
This turned out to not be the case. Upon opening up this portion of the house it was discovered that there were 6 sill plates resting on the foundation and beneath the floor framing. Additionally there were a number of gaps in these plates. The interior side of this wall is in a crawl space that has a substantial amount of spray foam insulation covering the foundation, plates, rim board and a portion of the floor joists.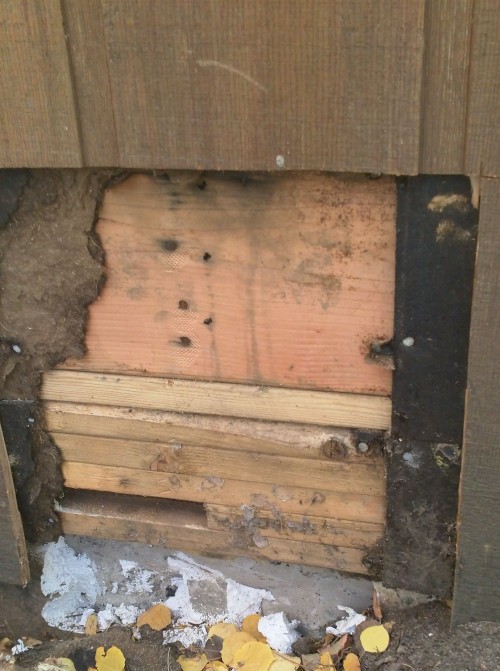 Upon discovery of this field condition, we promptly received a call from the builder, Doug Prickett with Bear Creek Design Group, who specializes in projects like this.  Ultimately, the resolution to this challenge was very simple and quick. One of our talented structural engineers was able to quickly asses the situation and was able to rework the connection detail. In the end, we used the same custom connection plate. The posts also have the same designed angle. Our engineer did a few calculations and specified some additional reinforcing and Doug was back to work.
As part of our base contract we are always available to help resolve construction issues as they occur. This is always very useful on remodel and addition projects where owners don't necessarily want destructive investigation prior to receiving a permit and signing a contract with a builder. Because of this reality, the game can change the moment the first wall is opened.
Here is a view of the entry with the posts in place: