We have completed the final rendering for the Silver Rock Manor in Evergreen Colorado. We were able to develop the original model in Revit, then take it through 3ds Max in order to get the photoreal effects you see below. The background image is an actual photo taken on site from the appropriate vantage point. The only challenge we had was managing the scale of some of the trees in the foreground that were in the way of the image and inappropriately scaled to be in the background.

The model is highly detailed, and with the scale of the overall structure, it is actually better to zoom into different vignettes of the model to appreciate all of the detail. The high res image was actually too large to post here, so I had to lower the resolution to a file size that is appropriate for the web. The rendering process actually became a part of the design process as it allowed the Owner the ability to see the entire composition for the first time. As a result, several design decisions were made right down to the color palette for the exterior materials.
These graphics tools allowed us to represent the project in ways that would be impossible in real life. For example, below is a progress photo of the home taken last week from a vantage much closer to the home, focusing on the interior corner between the turret and the porte-cochere. In order to capture the entire home, the camera viewpoint would be so far away that the detail would be lost and buried behind many of the site trees. Not to mention the fact that we would physically have to be elevated about 50 feet in order to get the shot!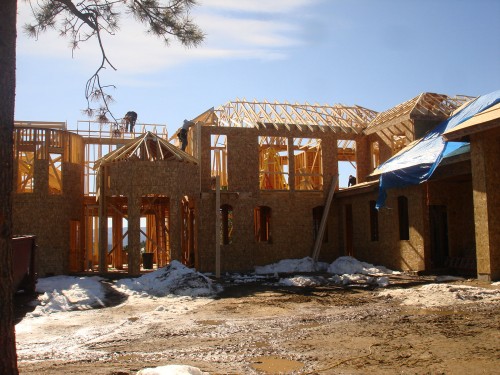 As we continue to implement these tools in all of our design projects, we will not only be able to show clients images that are much easier for them to understand, but we will also be able to use those images as design tools that will further aid in the decision process.