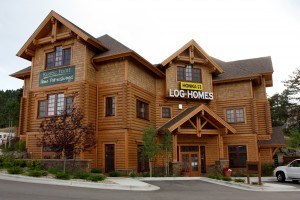 Log built structures are one of many specialized construction types that we have extennsive experience with at EVstudio. It is fairly typical that some of the building, like the upper or lower story for example, is not constructed of log but instead of typical stud framing. And in some cases, the owner prefers that a siding material be used to match the look of the log. In these instances, and when using a round log profile for the building, we will specify a round log siding.
What I am generically calling round log siding can take many forms. Round log siding is usually applied over a framed wall when the goal is to have the same (or nearly the same) appearance in size or overall thickness as the log wall does. In this way, the outside of the siding matches up closely with the outside of the log. It can also be the case that the entire structure be of stud construction and a thicker log siding can be applied to give that realistic log look, even complete with seamless log tails on the ends that further provide that custom log structure appearance.
There are also terms like "quarter log siding" and "half log siding" made by numerous manufacturers. These come in varying widths to match up with the log profile used and are typically thinner where it is not critical to treat the appearance with that extra thickness. Some are milled tongue and groove and some feature a lap type coverage like a typical lap siding. And at a more premium price tag, can be hand hewn for that additional custom log appearance.
We work regularly with Atrium Log Homes who supply fully custom Honka log homes and light commercial buildings manufactured in Finland. They offer several log siding profiles that correspond with their various round log profiles.
The photo above exhibits Honka's first retail center built near Evergreen Colorado by Atrium Log Homes, contains their showroom and features their half round log siding on the lower level. To see the high resolution image click the above image, then click the image once again on the following page.