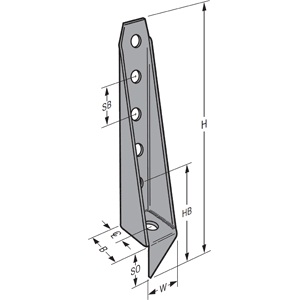 Simpson Discontinues Manufacture of Several Concrete Anchors
For 2011, Simpson Strong-Tie has chosen to discontinue the manufacture of several commonly specified concrete anchors such as the "wet set" STHD8 and the retro-fit series of anchors HD: 2A, 5A, 6A, 8A, 10A, 14A, 5, 7 and 9. From the Simpson Strong-Tie website:
"Simpson Strong-Tie is dedicated to continuously expanding our line of structural connectors with innovative new products that address the changing needs of our customers. As we introduce new connectors that improve upon older designs, it becomes necessary to discontinue the old versions in the name of efficiency and product-line simplicity."
Simpson recommends the substitution of the STHD8 with the LSTHD8 "wet set" anchor. For retro-fit applications Simpson recommends the substitution of the HD series products with the HDB or HDU series of concrete anchors.
Simpson has published a comprehensive list of discontinued products and recommended replacements found here.