Our office recently participated in a lunch and learn featuring Solatube Tubular Daylighting Devices hosted by Scott Beckman of SolarGreen. Solatube is a device that collects light, similar to a skylight, then reflects the light through highly reflective tubing to the intended destination.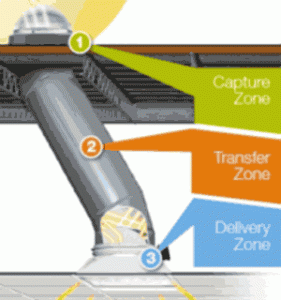 The collector is typically mounted on the roof of the building and is designed to capture low angle sunlight as well as omit the high angle intense light.
Once the sunlight has been captured, it reflects through the tube that can reach up to forty feet depending on the configuration. The tubes have four options for reflective coatings to produce your desired light temperature.
Finally, when the light reaches its destination, there are multiple diffusers that can be applied to the end of the tube to disperse the light as needed as well as a dimmer to control the amount of light penetration.
Sound interesting? Check out their website http://solargreen.us/ to learn more.