The Colorado Mountain in Evergreen is coming along nicely. There are a couple nice and unique architectural details that I want to share. It's always fun to work on a custom home in the mountains or even the plains. Without any further ado I want to present the stairs – still a work in progress but very close. The cleaners were in the day I visited so please excuse the mess.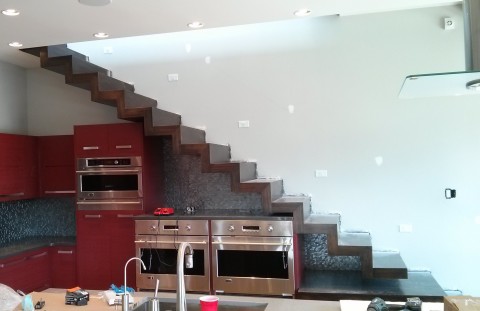 I really like how the kitchen came together underneath the stair. It isn't exactly what I had in mind when I originally designed the kitchen but that does happen from time to time on custom home projects. Overall the effect of a floating stair over deeper than normal cabinets was achieved.
This next photo is part of the entrance sequence into the home. This isn't complete yet either but it just goes to show that there is a process that has to occur before everything is ready.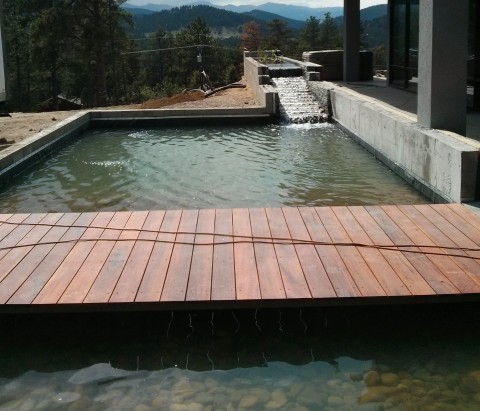 In the foreground is the wooden walkway that goes over the Koi pond. the pond ranges from a few inches deep at this end to a few feet deep at the other end. In the distance you can see the water fall that circulates the water. This waterfall will also goes right from it's source to create a stream and additional water feature. Next time I am at the site I'll get a photo of the front door from the starting point of the walkway. It's a great door, 4′ wide and heavy. On this particular day there was a lot of construction debris in the way.
This final picture is a view from the master bedroom.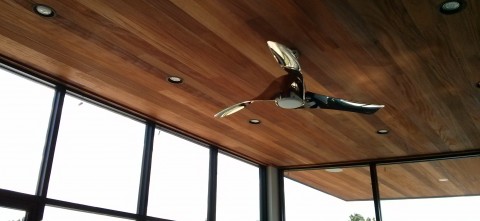 The ceiling is mahogany. The detail that I like about it is how it passes above the edge of the aluminum window frame and continues to the outside. This detail is repeated a couple times throughout the project and really ties things together. This roof cantilevers 8 or so feet. Cantilevers are also a major theme of the house. The main roof has a substantial one. I'm sure you can find some progress photos of it if you search our blog.
Thanks for reading!